VA: Did your Delegate support confiscation?
Written by Erich Pratt
Published: 13 February 2020
Here's How You Can Thank or "Spank" Your Delegate for their Vote on Banning Household Firearms
NOTE: Look below to see how your Delegate voted on HB 961,
and take action to send a "Thank or Spank" letter to your legislator.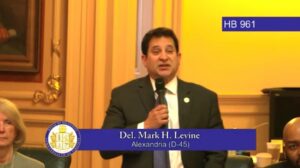 Thank you for your ongoing efforts to oppose HB 961, the grossly misnamed "Assault Weapons" bill.
This radical bill, which bans commonly-owned firearms, passed this week on a close vote of 51 Yeas to 48 Nays.
The bill also bans magazines holding more than 12 rounds. As stated by Breitbart:
There is no grandfather clause for magazines, which means Virginians … will have to destroy or surrender those magazines [holding more than 12 rounds], should HB 961 pass the Senate and be signed into law.
On Tuesday, all Republican Delegates voted "No."
Every Democrat — except for three — voted "Aye." The three Democrats who voted correctly were Delegates Lee Carter (Manassas), Steve Heretick (Portsmouth), and Roslyn Tyler (Brunswick County).
One Democrat "voted" present: Delegate Kelly Convirs-Fowler. You can see how everyone voted here.
Contact Your Delegate Based on His or Her Vote
We have prepared "thank you" and "spank you" letters for the 99 Delegates who voted:
1) Thank You Letters. If, from the description given above, you know that your Delegate voted correctly, you can click here to thank him or her for opposing gun and magazine bans.
2) Spank You Letters. If you know that your Delegate voted for gun confiscation, you can click here to SPANK your legislator for casting such a horrendous vote.
NOTE: If you are unsure of who your Delegate is or how he/she voted, then you can click BOTH of the above links and take action. Don't worry, the system will know the correct message to send and will only sent one email.
In a future email, we will provide letters to send to your Senator. But right now, it's important that your Delegate hear from you.
So please take action to put on the heat — or to encourage — your Delegate as the situation deserves.
Just to reiterate: If you are taking action using BOTH the Thank and Spank messages — because you are unsure how your legislator voted — the correct letter will be been sent to your Delegate after you have taken action using both links.
Again, the system will NOT allow an incorrect message to be sent to a Delegate. So if your Delegate voted wrong — and yet you fill out the Thank You letter — your Delegate will NOT get a thank you letter (or vice versa).
Thanks so much for your help. And stay tuned for alerts focusing activism to the Senate.
Featured GOA News & Updates