Texas shooter was denied gun in 2014 for 'mental health issue,' bought weapon at private sale
Written by Associated Press
Published: 03 September 2019
The gunman in a West Texas rampage that left seven dead obtained his AR-style rifle through a private sale, allowing him to evade a federal background check that blocked him from getting a gun in 2014 due to a "mental health issue," a law enforcement official told The Associated Press.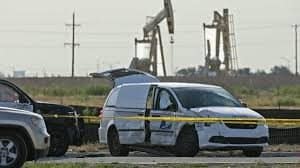 The official spoke to The Associated Press Tuesday on condition of anonymity because the person was not authorized to discuss an ongoing investigation. The person did not say when and where the private sale took place.
Officers killed 36-year-old Seth Aaron Ator on Saturday outside a busy Odessa movie theater after a spate of violence that spanned 10 miles and lasted more than an hour, injuring around two dozen people in addition to the dead. He spread terror across the two biggest cities in the Permian Basin while firing indiscriminately from his car into passing vehicles and shopping plazas. He also hijacked a U.S. Postal Service mail truck, killing the driver.
Ator had tried purchasing a firearm in January 2014 but was denied, the Texas Department of Public Safety said in a statement Tuesday. The agency said it was precluded by law from disclosing why, but the law enforcement official told the AP it was due to a "mental health issue."
Private sales [are] are not subject to a federal background check in the United States. If the person selling the firearm knows the buyer cannot legally purchase or possess a firearm, they would be violating the law. But they are not required to find out if the person can possess a firearm and are not required to conduct a background check…
Gun-rights advocates have pushed back against efforts to include private sales, contending it would risk unwittingly turning someone into a felon for a private transaction with a friend or relative. They also argue that criminals will still get their hands on a firearm, regardless of what laws are on the books.
"In the guise of basically regulating private sales it creates a mechanism that is so labyrinthian that basically gun owners won't be able to comply with it," Michael Hammond, the legislative counsel for Gun Owners of America, told The Associated Press.
Featured GOA News & Updates