Texans Stand Against Anti-Gun Rights Laws
Written by Erin Anderson, Texas Scorecard
Published: 17 September 2019
The hearing was convened by the Texas House Select Committee on Mass Violence Prevention and Community Safety, formed along with a companion Senate committee in the wake of shootings in El Paso and Odessa in August. Gov. Greg Abbott also formed a Texas Safety Commission and issued eight executive orders "intended to bolster the public safety coordination that can prevent mass shootings."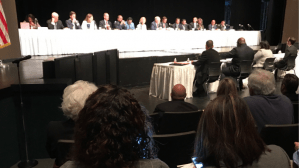 Most citizens at last Thursday's hearing spoke against the various "threat assessment," gun control, and "extreme risk indicator" proposals they believe would take away law-abiding citizens' constitutionally protected rights to free speech, self-defense, and due process. Many challenged the growing government intrusion as both anti-liberty and ineffective, and noted current laws are not being enforced.
"We already have enough laws on the books that aren't being implemented," said Donald Rutledge, a retired combat veteran and former armed security officer, noting "red flags" were ignored by officials in multiple mass shooting cases. "We need to get rid of all these gun-free zones," Rutledge added. "We need constitutional carry."…
Gun Owners of America's Texas director, Rachel Malone, live-streamed video via her Facebook page of the entire seven-hour hearing, which began with four hours of invited testimony from members of law enforcement, technology companies, and academia. The legislature posted an audio recording following the hearing.
Read more at Texas Scorecard
Featured GOA News & Updates