Targeted in Walmart attack, Hispanics in El Paso flock to firearms classes
Written by Julio Cesar-Chavez, Reuters
Published: 12 August 2019
More El Paso residents than ever before crowded into a class over the weekend to become certified to carry a concealed gun in public in Texas after this month's mass shooting at a Walmart store that killed 22 people.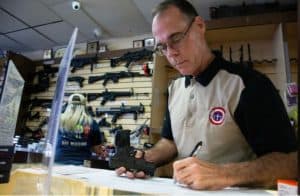 Guadalupe Segovia, 35, was at the class with her two children. She said her military husband had long been pushing for her to get a concealed-carry license, which allows the holder to wear a gun hidden under their clothes or carry it in a purse when they are in public.
Segovia said she felt urgency to do the required training now after the attack hit close to home. "I'm still going to be scared, even carrying a weapon," she said.
The vast majority of people at the classes were Hispanic; El Paso is a predominantly Latino city. Police say the accused gunman deliberately attacked Hispanics in the Walmart.
Michael McIntyre, general manager of Gun Central, one of the largest gun shops in El Paso and the host of the class, on Friday said his store tallied double the usual number of sales in the week following the attack, something that did not happen after previous mass shootings in Texas…
Featured GOA News & Updates