Red Flag Proposal: DOA… For Now
Written by Rachael Malone
Published: 17 August 2018
Is Red Flag really dead?
Hello fellow Texans,
I'm sure you've heard it in the news, but I wanted you to hear it from me also. The Red Flag gun control proposal has been declared dead on arrival, and we couldn't have done it without you.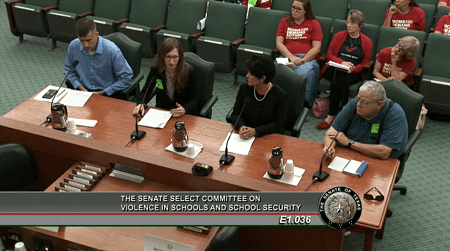 I testified before a Senate Committee, and I made sure to tell them that we OPPOSE this Red Flag proposal because it forces a gun owner to defend himself in court — and possibly have his guns confiscated — without even probable cause of a crime having been committed.
I also told them that the best way to make our schools safer is to end gun-free zones so you and I can have the freedom to carry our guns and defend our own lives.
A total of 49 witnesses provided testimony at the hearing, and I'm proud that over two-thirds of us were united in opposition to Red Flag gun control.
And our voices were heard. Within hours, Lt. Gov. Dan Patrick stated that he has "never supported these policies, nor has the majority of the Texas Senate." Governor Abbott has also reached out to let us know that he is not currently advocating for passage of a Red Flag law.
And the liberal Austin-American Statesman printed my editorial explaining the absurdity of Red Flag gun confiscation proposals. Read it here.
This is a huge victory for gun rights. Thank you for helping us get here.
But the battle isn't over. We fully expect that those who want to take away our guns will keep fighting. They'll sneak the red flag law into other bills. They'll try any angle they can.
I will stand strong and keep defending your freedom in the Texas Legislature. I'll fight against gun control, and I'll fight for constitutional carry and ending gun-free zones. But I can't do it alone.
Will you do two things that will help us keep winning?
1.) Commit that you will attend at least one committee hearing in 2019. We need more people showing up or we WILL be outnumbered.
2.) Right now, join Gun Owners of America as a Patriot Member. Your support means so much to me and truly makes a difference.
Thank you for helping me defend the blessings of liberty to our posterity.
Rachel Malone
Texas Director
Gun Owners of America
PS. Thank you for standing with me to help defend Red Flag laws. But gun controllers in Austin will be pushing these Gun Confiscation Orders next session. Will you join up with GOA as a Patriot Member to snuff out gun control?
Featured GOA News & Updates