Seventeen State Attorneys General Join GOA in Filing for Preliminary Injunction Against Biden "Ghost Gun" Rule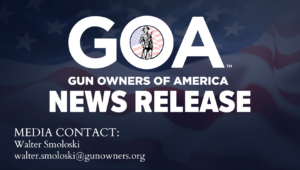 FOR IMMEDIATE RELEASE
Washington, D.C. – On Monday, Gun Owners of America (GOA) and the Gun Owners Foundation (GOF) filed a motion for a preliminary injunction against the Biden Administration's "Ghost Gun" and Gun Registry Final Rule, which will go into effect on August 24.  Today, GOA and GOF were joined by the Attorneys General of 17 states in the filing: Arizona, West Virginia, Alaska, Arkansas, Idaho, Indiana, Kansas, Kentucky, Louisiana, Missouri, Montana, Nebraska, Oklahoma, South Carolina, Texas, Utah, and Wyoming.
The request was filed in the U.S. District Court for North Dakota, and it follows GOA and GOF's initial lawsuit challenging the constitutionality of the rule earlier this month. Among other provisions, the rule would arbitrarily require (1) background checks on gun parts such as 80% kits, (2) gun dealers to serialize and register privately made firearms which are taken into their inventory, and (3) FFLs to permanently maintain all Firearm Transaction Records (Forms 4473), a change from ATF's temporary 20-year record retention policy in violation of the Firearms Owners' Protection Act (18 U.S.C. 926(a)(3)).
GOA and its millions of members continue to voice concerns that this is another attempt by this anti-gun administration to regulate what Congress never intended to regulate and eventually turn their partial gun registry into a complete registry of every firearm transferred. Under current policy, when an FFL dealer goes out of business, the most recent 20 years of records are transferred to ATF. But under the new record-keeping policy in the Final Rule, every transaction record would eventually be entered into ATF's digital and searchable national gun registry.
Sam Paredes, on behalf of the Board of Directors for the Gun Owners Foundation, issued the following statement:  
"Despite the ATF acknowledging serious issues with their preliminary rule, this anti-gun administration has made clear that they would not be deterred in going after 'ghost guns' one way or another. GOF is excited to partner with the chief law enforcement officers of so many states in this fight.  We are confident that our challenge to this final rule has serious merit and that we will ultimately prevail in having it dismantled as unconstitutional in federal court." 
Arizona Attorney General Mark Brnovich has taken the lead in organizing the states' opposition to the ATF rule. Here is what he had to say: 
"The ATF is attempting to overshoot the authority granted to it by Congress," said Attorney General Brnovich. "The rulemakings are unconstitutional, impractical, and would likely put a large number of parts manufacturers out of business." 
GOA spokesmen are available for interviews.  Gun Owners of America is a nonprofit grassroots lobbying organization dedicated to protecting the right to keep and bear arms without compromise. GOA represents over two million members and activists. For more information, visit GOA's Press Center.
Featured GOA News & Updates