Rosaries and Rifles: Syria Christians Fighting Back Against Islamic State in Raqa
Written by Breitbart Jerusalem
Published: 29 June 2017
Rosaries and Rifles: Syria Christians Fighting Back Against Islamic State in Raqa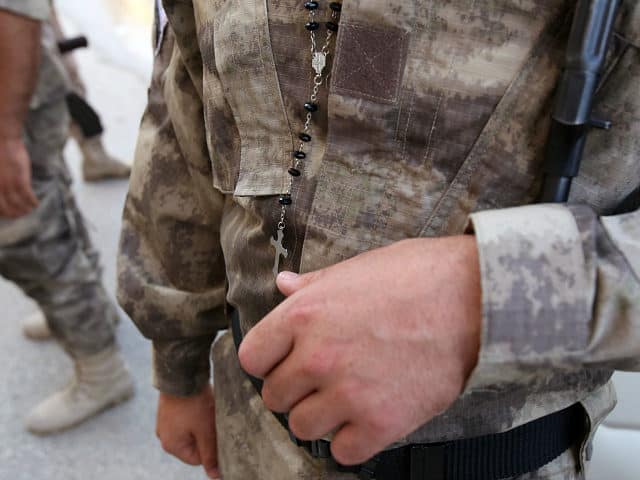 RAQA, SYRIA (AFP) –  An ivory-coloured rosary swings from the rearview mirror of Abboud Seryan's pickup truck as he speeds through Syria's Raqa, inspecting the positions of fellow Christian fighters taking on the Islamic State group.
Lively music blasts through the car speakers while the thin 23-year-old, wearing a military-style cap and a revolver tucked into his waist, waves to comrades in the western district of Al-Romaniya.
IS was ousted from the neighbourhood earlier this month as part of the US-backed offensive to defeat the jihadists in their northern Syrian bastion.
The ground assault is being carried out by the Syrian Democratic Forces, a majority Kurdish and Arab alliance, but dozens of Christians from the Syriac sect have also joined the fight.
"We're participating in the liberation of Raqa in the name of all Syrians. There's no difference between Syriacs, Kurds, or Arabs. We're all brothers," Seryan says.
The jihadists "blew up Raqa's churches and forced Christians to convert to Islam. This is also why we're participating in this battle."
Thousands of Syriac Christians once lived in Raqa alongside Armenians, Kurds and the city's mainly Sunni Arab population, but many fled when IS overran the city in 2014.
On June 29 of that year, IS declared the establishment of a self-styled "Islamic caliphate" straddling areas under its control in Syria and neighbouring Iraq.
Christians could remain in Raqa if they paid a special tax called the jizya or converted to Islam — but many of them chose to flee.
Featured GOA News & Updates