Pro-gun rally in Richmond, Va., ends peacefully despite early fears of violence
Written by Associated Press
Published: 20 January 2020
Tens of thousands of gun-rights activists from around the country rallied peacefully at the Virginia Capitol on Monday to protest plans by the state's Democratic leadership to pass gun-control legislation — a move that has become a key flash point in the national debate over gun violence.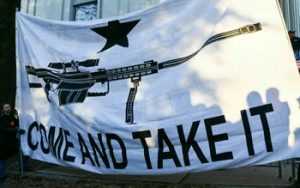 The size of the crowd and the expected participation of white supremacists and fringe militia groups raised fears that the state could see a repeat of the violence that exploded in 2017 in Charlottesville. But the rally concluded uneventfully around noon, and the mood was largely festive, with rally-goers chanting "USA!" and waving signs denouncing Democratic Gov. Ralph Northam…
Erich Pratt, senior vice president of Gun Owners of America, among the speakers at the rally, said voters need to replace the Democrats in control of the government in Virginia.
"We need to throw the bums out. We need to clean house in the next election," he said.
The pushback against proposed new gun restrictions began immediately after Democrats won majorities in both the state Senate and House of Delegates in November. Much of the opposition has focused on a proposed assault weapons ban.
Virginia Democrats are also backing bills limiting handgun purchases to once a month, implementing universal background checks on gun purchases, allowing localities to ban guns in public buildings, parks and other areas, and a red flag bill that would allow authorities to temporarily take guns away from anyone deemed to be dangerous to themselves or others.
Read more at Market Watch
Featured GOA News & Updates