More NH gun control bills on the table
Written by Alan Rice
Published: 19 January 2020
Two House Gun Control Bills to be Heard January 22nd
Wait times and Transfer Penalties on the Way
Last month we told you that the anti-gun leadership in Concord was recycling old, discredited ideas again for 2020.
Things are starting to move.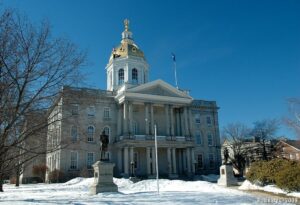 On January 22 there will be public hearings conducted on HB 1101 (buy a gun and wait to bring it home) and HB 1379 (sell / give a gun to a friend and go to jail).
Both of these bills were vetoed last year and the vetoes were upheld because Governor Sununu recognized that New Hampshire is one of the safest places on planet earth and we don't need gun control.
New Hampshire is safe precisely because we allow law-abiding people to purchase, own, carry and use firearms.  Legally armed citizens can and do stop crime every day. Just like the hero in Texas, Jack Wilson who stopped a murderer in his church because he was armed.
HB 1101 forces new, onerous record-keeping requirements on licensed firearms dealers ​to document that they made you wait to bring your gun home. ​ The only exception to the wait is for those who have taken a hunter education course or law enforcement.  Our rights should not be conditioned upon sport hunting or employment in law enforcement.
Section II of HB 1101 requires dealers to make records available for inspection by any law enforcement officer without a warrant or evidence of a crime.  These new rules will likely result in higher prices, and possibly even abuse by the notoriously anti-gun conservation officers of New Hampshire Fish and Game.
Under the provisions of HB 1379 if you sell, give or lend your gun to your lifelong friend or neighbor without paying fees and submitting to a NICS check you could be sent to jail.  And the sponsors of HB 1379 also want local law enforcement to be a reporting arm to the ATF.  ​Furthermore, there is nothing in HB 1379 that requires dealers to process these transactions.
Here are THREE Action Items:
1) The House Criminal Justice and Public Safety Committee is scheduled to conduct a public hearing on HB 1101 on Wednesday, January 23 at 1 PM and on HB 1379 at 2 PM.  If you can attend please do so.
2) Please contact all members of the Committee and let them know that you strongly oppose both HB 1101 and HB 1379.
3) Then, after you've contacted the Judiciary Committee, I need you to contact your own State Representatives to urge them to oppose both HB 1101 and HB 1379.
Ask your Representatives to sign in on January 22 as being opposed to HB 1101 and HB 1379 and urge them to also testify against both infringement bills during the public hearing.
Featured GOA News & Updates