PA: "Strengthen Preemption" Bill Passes PA Senate
Written by Dr. Val Finnell, Pennsylvania GOA Director
Published: 26 January 2022
HB 979 Goes to Governor Wolf for Signature
HB 979, Representative Matt Dowling's bill to strengthen Pennsylvania's firearms preemption law, passed the Pennsylvania Senate yesterday along partisan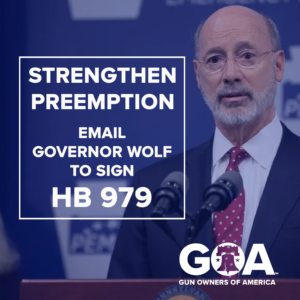 lines. Anti-gun Senator Maria Collett (D-12) tried to gut the bill with an amendment but it was defeated.
You can see how your state senator voted by clicking here. Please take a moment to thank your senator if he or she voted to pass HB 979.
And please send a thank you note to the bill's prime sponsor, Representative Matt Dowling (R-51).
Now, the bill goes to Governor Wolf's desk where he has promised a swift veto, just like he has with every other pro-gun bill GOA members and supporters put on his desk.
Even with his veto promise, Governor Wolf still needs to hear from you. I want to see thousands of messages hitting his email inbox to sign HB 979 into law.
Let's make Governor Wolf's veto politically unpalatable for Wolf's anointed successor, anti-gun Attorney General Josh Shapiro.
HB 979 provides law-abiding citizens with the ability to recover damages, reasonable attorney fees, and costs if a court finds that a local ordinance violates the state firearms preemption law. It would also award costs to an unsuspecting citizen charged with a crime under one of these illegal ordinances who is subsequently acquitted.
Not only that, but this bill would allow membership organizations, like GOA, to sue on your behalf.
We need to hold elected officials accountable for breaking the law and stop their financial "war of attrition" against law-abiding gun owners.
So, please send a message to Governor Wolf (by using the form above) to sign HB 979 into law without delay.
Featured GOA News & Updates