BREAKING: Mississippi Governor Signs GOA-Backed Constitutional Carry Into Law
Written by Jenn Jacques
Published: 15 April 2016
Mississippi Governor Phil Bryant didn't just sign House Bill 786 into law this afternoon: he did it like a boss.
The good governor had his Glock holstered on his hip and both a tattered Bible and a copy of the Reagan Diaries on his desk as he ushered The Magnolia State into an elite class with Alaska, Arizona, Arkansas, Idaho, Kansas, Maine, Vermont, West Virginia, and Wyoming to honor citizens' right to carry a concealed handgun without having to obtain a permit first.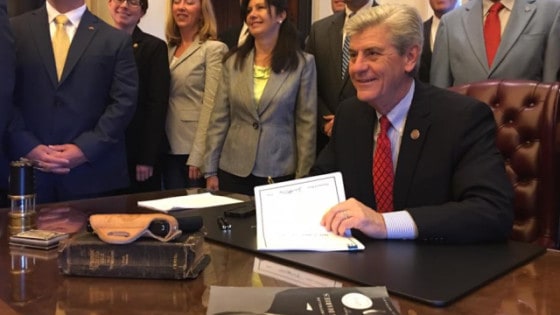 [Ed. Note:  Over 99% of Montana also enjoys Constitutional Carry.]
"Today I signed House Bill 786 to give churches the right to protect themselves from those who would harm them while they worship," Governor Bryant said in a statement. "I'm a strong supporter of Second Amendment rights and will continue to advocate for your right to keep and bear arms."
Anti-gun Groups Bemoan the Governor's Action
Despite trying to shame Mississippi for supporting the measure, Moms Demand and Everytown once again lost a significant fight in the battle against the Second Amendment.
"Our Governor failed us today," said Shirley Hopkins Davis of the Mississippi Moms Demand Action chapter in a statement emailed to Guns.com. "Mississippi law enforcement, families and faith leaders all spoke out against this reckless bill that will allow dangerous people to carry hidden, loaded handguns in public without a permit. Yet the Governor still signed this legislation into law."…
Hats off to you, Mississippi! 
click here to see GOA's previous action alert and to thank gov. bryant