OKLAHOMA: Keep Up the Pressure for Constitutional Carry!
Written by Jordan Stein
Published: 25 February 2019
Double Down on Constitutional Carry
Take Action below to EMAIL your State Senator and Governor to Support/Sign Constitutional Carry!
UPDATE: Constitutional Carry is is expected to be voted on by the Senate and considered by the governor Feb. 27 — please take immediate action above!
Urge your State Senator, Governor to Support Constitutional Carry
We're getting very close to making the Sooner State the 16th Constitutional Carry state!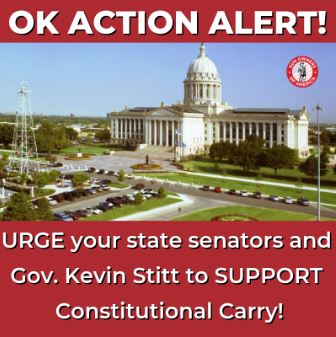 But now is NOT the time to get complacent.
Last week, the Senate Appropriations Committee passed Constitutional Carry by an 18-4 vote, and now the bill is eligible to be taken up by the full Senate.
While it's likely the Senate will pass the bill — and the governor has spoken favorably of Constitutional Carry in general — Oklahoma gun owners need apply political pressure to the Senate to ensure passage.
So please take action and urge your state senator ABOVE and Gov. Kevin Stitt BELOW to support HB 2597!
Featured GOA News & Updates