Here's a Texas-Sized Update on Constitutional Carry
Written by Rachel Malone
Published: 25 February 2019
HB 357 Picks Up Steam!
Take Action below to urge your state lawmakers to SUPPORT Constitutional Carry!
Prepare to show up in Austin for Constitutional Carry hearing
Constitutional Carry (HB 357) has taken another small step forward in Texas and it's time for you to make plans to show up for the committee hearing!
HB 357 Co-authors Announced
I'm thrilled to announce our first set of gun rights champions for this legislative session! Thanks to these representatives for their strong and early support of Constitutional Carry, HB 357. (See more details on HB 357 here.)
Author: Representative Jonathan Stickland
Joint Authors: Representatives Kyle Biedermann, Mike Lang, Mayes Middleton, and James White
Co-Authors: Representatives Briscoe Cain, Cole Hefner, Matt Krause, Will Metcalf, Tom Oliverson, Jared Patterson, Matt Schaefer, Tony Tinderholt, Steve Toth, and Bill Zedler.
If your representative is on this list, please reach out to say thank you.
Otherwise, please reach out and ask your representative to co-author HB 357 right away to show their support for Constitutional Carry.
HB 357 Sent to Committee
Last week, HB 357 was referred to the Homeland Security & Public Safety committee. Now it is entirely up to Chairman Poncho Nevarez to schedule it for a hearing and bring it up for a vote.
As you may know, most of the bills that die in the Texas legislature are never actually voted down; they die in the committee process, often due to inaction. Chairman Nevarez has promised to give Constitutional Carry a hearing, but it's critical that we all show up as a strong, positive presence to stand up for our God-given right to keep and bear arms.
With that in mind, I am asking you to plan to be in Austin for the Constitutional Carry committee hearing.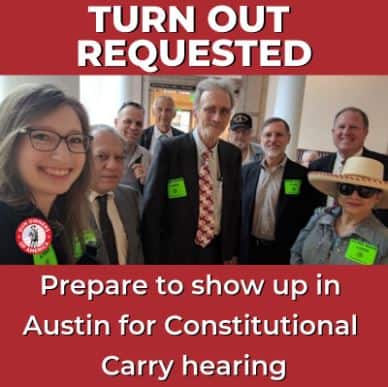 Here's what you can expect:
A Wednesday hearing at the State Capitol in Austin

3 days' advance notice of the specific hearing date

A long day (possibly 8am until late at night)

Lots of people on both sides of the issue

2 minutes per person to speak

We'll help you know how to craft your testimony
Here's what we don't know yet:
What is the exact date?

How long will you have to wait?

Will enough of us show up to make the critical difference in moving the bill forward?
Please plan now to take time off work and put together travel plans with other gun owners from your area. I know this is a sacrifice, but cannot stress enough what a huge difference it makes, and I'm counting on you to be there.
Join our Facebook event page to stay current on hearing plans, connect with others in your area for carpools, and learn of volunteer needs you can fill from home!
It is one of my greatest honors to be able to spend my days fighting for your right to keep and bear arms. Thank you for your support of GOA that allows me to fight for you on a daily basis, and thank you for doing your part at critical points to contact your legislators and show up in Austin!
Featured GOA News & Updates