Support School Carry in Idaho
Written by Jordan Stein
Published: 27 February 2019
School Carry introduced in the Gem State
Take Action below to urge your state representatives to support Rep. Christensen's school carry bill — H.B. 203!
Urge your Representatives to Support School Carry!
Pro-gun Representative Chad Christensen has introduced a measure to make Idaho's schools safer.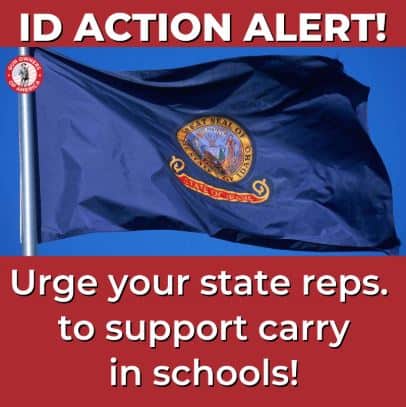 This legislation would allow Idahoans with enhanced carry permits to carry in schools. Tragic shootings like Parkland and Sandy Hook have at least one thing in common — they occur in gun-free zones.
Rep. Christensen's bill would allow for parents, teachers and staff with enhanced permits to carry in Idaho's schools — and if needed — be the first responders to protect students from evildoers.
Gun owners across Idaho need be vocal for the Second Amendment — especially for this legislation.
But nothing moves in politics unless it's pushed, so we need gun owners to immediately take action.
So please call your state representatives to support H.B. 203!
Another bill of note to gun owners is Rep. Bryan Zollinger's legislation to clarify Idaho's laws concerning firearms in vehicles.
Currently, it's lawful for Idahoans to carry loaded rifles, shotguns and handguns in their vehicles with no permit. However, the statutes are written in a poor way, confusing gun owners. Rep.  Zollinger's bill will clarify the law. If you're inclined, please include support for this bill in the action above.
Thanks in advance for taking action.
Featured GOA News & Updates