Oklahoma in Line to be First State to Repudiate Red Flag Gun Confiscation
Written by Michael Hammond
Published: 19 May 2020
Apparently, legislators in the Sooner State would sooner have freedom than fascism.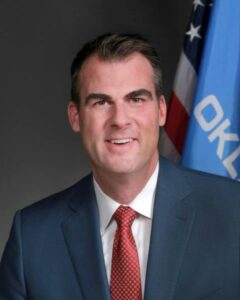 Oklahoma is poised to be the first state to pass legislation specifically repudiating red flag gun confiscation.
That bill is Senate Bill 1081, and it has passed both the Senate and the House and is currently awaiting Governor Kevin Stitt's signature.
NOTE: There was an errorenous report over the weekend claiming that Gov. Stitt had signed this bill. But this is NOT correct. According to Stitt's office, as quoted in The Oklahoman, the Governor has not signed this bill.
So we still have time to contact the Governor's office and to encourage him to sign SB 1081!  Again, you can also call him at (405) 521-2342.
"Red flag" gun confiscation laws have been passed in almost 20 largely-blue anti-gun states. These bills would allow the police or an angry relative to take your guns away with unsubstantiated allegation made in a secret proceeding before a gullible judge. You would not be notified before the police showed up at your house in the middle of the night to knock on your door.
Already, in Maryland, two gun owners have been summarily executed by police in connection with the service of "red flag" or similar orders.
But under S.B. 1081, "red flag" orders would be illegal in Oklahoma. And no locality could receive money under a Nancy Pelosi-supported bill intended to turn Oklahoma into a gun control state.
So please contact Governor Stitt right away and urge him to sign S.B. 1081 into law!