LA: Pro-Gun Bills Need Your Help
Written by Joshua Barnhill, Louisiana Director
Published: 16 May 2020
Pro-Gun Bills Pass House Committee
Action is Needed to Urge Louisiana House of Representatives to Pass Pro-Gun Bills
This past Wednesday saw a big win for gun rights as four pro-gun bills heard before the House Committee on Administration of Criminal Justice passed favorably and will now head to the House Floor.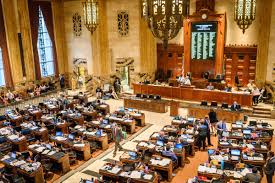 The committee members witnessed firsthand just how important the right to defend self and family are to Louisianans as pro-gun citizens filled the committee room despite the current COVID-19 emergency.
Due to this impressive showing, as well as the many emails and phone calls made by you and other gun owning Louisiana citizens, the members of the committee have been put on notice that infringements on our right to protect ourselves and our families will not be tolerated.
Now it is time to let the rest of the Louisiana House of Representatives know this as well!
I ask you to continue this awesome show of support for our Second Amendment rights by contacting your state Representative and urging them to support these pro-gun bills:
House Bill No. 140, by Rep. Blake Miguez (R) Dist. 49, strengthens Louisiana's firearm preemption law by prohibiting any governing authority of a political subdivision (local government) from enacting any ordinance or regulation that is more restrictive than state law concerning the possession of a weapon or firearm in certain commercial establishments and public buildings.
House Bill No. 334, by Rep. Bryan Fontenot (R) Dist. 55, authorizes a concealed handgun permit holder to carry a concealed handgun in a church, synagogue, mosque, or other similar place of worship without being subject to the present limitation on a permit holder's authority to carry in such places.
House Bill No.  746, by Rep. Ray Garofalo (R) Dist. 103, creates an exception to the illegal carrying of weapons by allowing any person who can lawfully possess a firearm to carry a concealed firearm during a mandatory evacuation in a declared state of emergency or disaster.
House Bill No. 781, by Rep. Blake Miguez (R) Dist. 49, removes the authority of executive and chief law enforcement officers to regulate the manufacture, sale, and possession of firearms or ammunition during a declared emergency or disaster, or public health emergency. (See my prior alert on HB 781 here.)
Featured GOA News & Updates