New Yorkers Now Have a Tool to Rise Up Against Gun Controllers
Written by Erich Pratt
Published: 09 April 2019
Become a Second Amendment Sanctuary County

By giving us your contact information below, we will put you in touch with a local coordinator in New York who is helping organize the grassroots support for creating sanctuary counties. Make sure to include in your email what county you live in.
Urge your County Officials to Reject Gun Control
If we've heard it once, we've heard it a thousand times: "What can GOA do to save the Second Amendment rights of embattled New Yorkers?"
Well, we've heard you.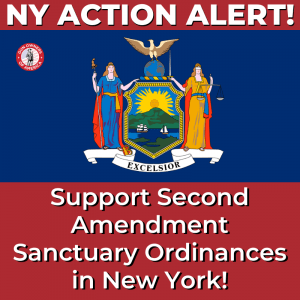 And, in coordination with Westerners facing anti-gun state governments in their part of the country, we believe we've come up with a solution:  Second Amendment Sanctuary Cities and Counties.
Obviously, the concept of nullification has its roots in our history. But most recently, the country has seen liberal cities like San Francisco try to insulate their jurisdictions from complying with federal immigration laws.
But unlike laws that ignore criminal illegal aliens, an armed citizenry — lawfully exercising it constitutional rights — makes America safer, rather than merely making it bluer and more dangerous.
The concept of Second Amendment Sanctuary Counties is sweeping the nation.  There are already over half the counties in Washington … twenty-eight out of thirty-three counties in New Mexico … and sixty-three counties/municipalities in Illinois.  
In all, over 130 counties across the country have declared themselves to be Second Amendment sanctuaries.
I am attaching a template for you which has been developed for adoption by counties in New York State.
Here it becomes a bit complicated, because some New York counties are governed by an elected board or commission, others are run by an elected administrator, and still others appoint an administrator to run their affairs.  You can see what category your county falls into by clicking here.
But the goal is this:  To get your county commission, board, or administrator to adopt legislation which would prohibit county resources from being used to implement New York's unconstitutional SAFE Act and Gun Confiscation legislation.
You may remember some of the odious provisions of these pieces of legislation:
Under Gun Confiscation/red flag legislation, you can be stripped of your constitutional rights with no due process whatsoever.

Under the SAFE Act, certain guns and standard capacity magazines are banned and registered.

Under the SAFE Act, psychiatrists have violated the personal trust of their patients, in order to report 30,000 New Yorkers to the government.

Also under New York law, New Yorkers (and particularly residents of New York City) are largely barred from gun ownership for personal protection unless they get the government's permission — and that permission is almost never granted.
Under the Second Amendment Sanctuary County legislation, your county law enforcement would be barred from enforcing unconstitutional anti-gun provisions.
Although we have provided a template, you are certainly free to adapt it in any way that suits your area's needs and desires.
While Governor Andrew Cuomo and your anti-gun lawmakers may continue to disregard to the Second Amendment, we believe this legislation will go a long way to protect you and your neighbors from their anti-gun designs.
So if you wish to help get this 2A sanctuary movement advancing in your county, please email GOA above.
We will put you in contact with a local coordinator who is spearheading this effort.
Thank you for your help.
Featured GOA News & Updates