Urge the Judiciary Committee to pass SB 141
Written by Alan M. Rice, New Hampshire State Director
Published: 05 March 2021
Edited 03/12/2021  — On March 9, 2021 the Senate Judiciary Committee voted SB 141 "ought to pass".  Please contact your senators and urge them to vote for SB 141.
It has been almost three weeks since the Senate Judiciary Committee held their public hearing on SB 141 and they have still not taken action on the bill.
SB 141 is important legislation which will abolish the inefficient state "gun line."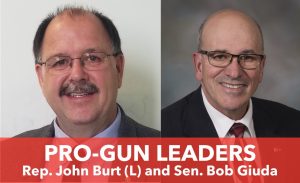 The Senate Judiciary Committee has scheduled an executive session on pending legislation for 1PM on Tuesday, March 9, 2021.  They could vote on SB 141 then or continue to put it off.
It is important that you use the form above to let the members of the Committee know that you want them to vote SB 141 "ought to pass" without any amendments or changes.  If you prefer to make a phone call, click here for the committee roster.
When committees hold executive sessions, the public can watch, but not participate.  Click here to watch the meeting.
If you want further details on SB 141, we posted an alert on February 11, and another on February 16.
GOA is aware that several pro-gun bills have been voted "ought to pass" by the House Criminal Justice and Public Safety Committee.  As soon as they are scheduled for a floor vote, we will let you know what action is needed and how to take that action.
However, for now, please use the form above to contact the Senate Judiciary Committee to urge passage of SB 141.
One more thing, if you have experienced problems with the broken "gun line,"  click here to tell us about it.
Featured GOA News & Updates