NH: The 2020 Range Closure Act, SB 469
Written by Alan Rice
Published: 22 January 2020
Sen. Dietsch is Trying to Close Your Range
Sen. Jeanne Dietsch and Sen. Jay Kahn have introduced SB 469 which will completely repeal our 2004 Shooting Range Protection law and replace it with a law that will make it very easy for cities and towns to close ranges.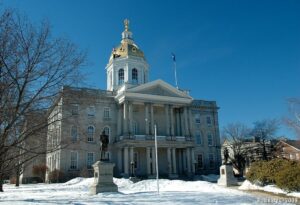 SB 469 is particularly dangerous because it reverses all of the provisions of New Hampshire's Range Protection law and truly does make it a range closure act.
Under current law, if a range was continuously operating and was in compliance with zoning and noise ordinances that were in effect on the date it commenced operations, the range is immune from civil actions and cannot be forced to close even if a noise ordinance is subsequently adopted.
But under Sen. Dietsch's Range Closure Act, shooting range owners and operators will be forced to comply with noise ordinances that take effect after the enactment of SB 469. In other words, owners and operators of shooting ranges have no clarity, cannot plan and will be forced to exist without certainty because Sen. Dietsch is willing to allow cities and towns to keep changing the rules.
Consider this: what good is the Second Amendment if there is nowhere to safely exercise that right? In 2004 the legislature and governor were entirely correct when they updated and modernized New Hampshire's 1987 Range Protection law. Please do not let Senator Dietsch enact the 2020 Range Closure Act.
Here is what I need you to do:
The Senate Judiciary Committee is scheduled to conduct a public hearing on SB 469 on Thursday, January 23 at 10 AM. If you can attend please do so. But moreover, please contact all members of the Committee and let them know that you strongly oppose SB 469, the Range Closure Act.
Then, after you've contacted the Judiciary Committee, I need you to contact your own State Senator to urge them to oppose SB 469. Ask your Senator to sign in on January 23 as being opposed to SB 469 and urge them to also testify against SB 469 during the public hearing.
Featured GOA News & Updates