Martin Luther King Applied to Carry Concealed for Self-Defense But Was Denied
Written by AWR Hawkins
Published: 17 January 2017
Martin Luther King Applied to Carry Concealed for Self-Defense But Was Denied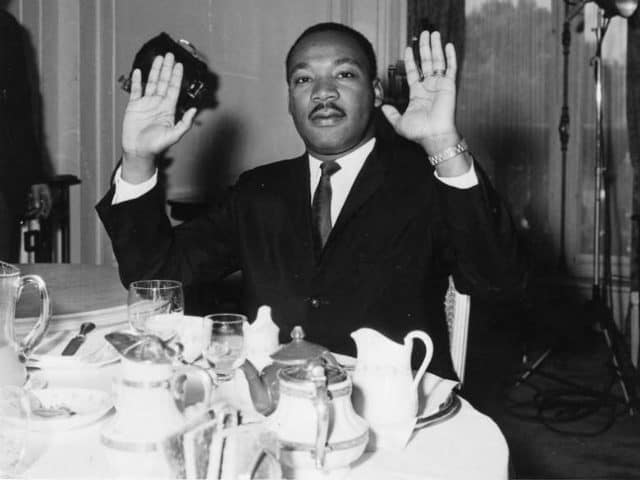 Dr. Martin Luther King Jr., applied in 1956 for a permit to carry a handgun for self-defense but was denied by governing authorities who enjoyed "may issue"-style discretion.
---
Martin Luther King Applied to Carry Concealed for Self-Defense But Was Denied
Dr. King applied in Alabama, which was under no legal obligation at the time to issue the permit. Rather, police had final say in whether an application was approved. This put the citizen in the same predicament that residents of "may issue" states find themselves in today.
In a "may issue" state, a concealed carry permit may be issued if the local governing authority believes such issuance apropos. This approach allows the state, via sheriff's offices and/or local police departments, to stand between the citizen and the constitutional right to keep and bear arms.
In 2011, UCLA law Prof. Adam Winkler used a Huffington Post column to explain:
Most people think King would be the last person to own a gun. Yet in the mid-1950s, as the civil rights movement heated up, King kept firearms for self-protection. In fact, he even applied for a permit to carry a concealed weapon.
A recipient of constant death threats, King had armed supporters take turns guarding his home and family. He had good reason to fear that the Klan in Alabama was targeting him for assassination.
Winkler added:
In 1956, after King's house was bombed, King applied for a concealed carry permit in Alabama. The local police had discretion to determine who was a suitable person to carry firearms. King, a clergyman whose life was threatened daily, surely met the requirements of the law, but he was rejected nevertheless. At the time, the police used any wiggle room in the law to discriminate against African Americans.
Breitbart News has reported that "Democrats were the authors of Jim Crow and … of southern segregation. These things, along with gun control, were part of the Democrats' plan for communities of color." These were the Democrats' southern policies, and it appears that even King was not immune to them.
Today, Americans of all colors and creeds continue to face the vestiges of such control via "may issue" statutes, "good cause" requirements (California), and similar rules in New Jersey. On January 16, Gun Owners of America used a tweet to address the freedom-crushing danger of such gun control: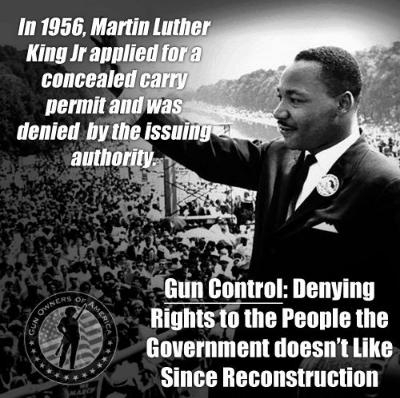 Featured GOA News & Updates