GOA-Backed Event Seeks to Train 4,000 Women in Detroit
Written by Courtney Orange
Published: 20 August 2021
Gun Owners of America (GOA) is sponsoring an event held by Rick Ector's Legally Armed in Detroit, which is seeking to train 4,000 women in the use of firearms in one weekend.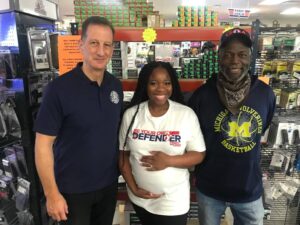 Will you help Rick reach his goal of 4,000 ladies? If you know any gals who could receive free firearms instruction, please keep reading this alert!
Ladies attending the event will be given a free firearm's safety briefing and then be provided with supervised range time, which includes free usage of a firearm and ammunition.
Targets, eye and ear protection are provided by GOA.
GOA Senior Vice President Erich Pratt said, "Rick Ector has done an incredible job training ladies for ten years, and GOA is pleased to support his efforts. Firearms are the great equalizer for women, and Rick does great work in promoting gun ownership."
The event will take place on August 21-22 at Top Gun Shooting Sports and Recoil Firearms near Detroit, Michigan.
So please forward this message to any lady who you think could benefit from this training over the weekend!
Here is the information for the two events this weekend:
Recoil Range – 22509 Ecorse, Taylor MI, 48180 from 9am – 7pm (on 8/21 and 8/22).
Top Gun Range – 22050 Pennsylvania, Taylor, MI, 48180 from 9am – 7pm (on 8/21 and 8/22).
Online Internet registration is required to participate and proof of registration via a cell-phone notification or a printed receipt is required for admission. For more information, please check the Facebook event.
Featured GOA News & Updates