Lt. Governor Dan Patrick Wants To Bring Gun Control To Texas
Written by Rachel Malone
Published: 12 September 2019
Dan Patrick Is Trying to Push Gun Control On Texans
Lt. Governor Dan Patrick has declared he wants to lead the charge toward gun control.
That's right: the lieutenant governor of Texas, who ran on a platform full of pro-gun rhetoric, has caved to leftist policies and wants to further infringe your right to keep and bear arms in Texas.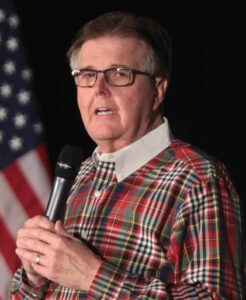 Lt. Gov. Patrick is calling for background checks on some private gun sales, and the anti-gunners are cheering. This is right out of the gun control playbook, and leads to a de facto end of private gun sales and a de facto gun registry in Texas.
Moreover, Lt. Gov. Patrick has appointed a committee to study expanded background checks and other gun-related issues. The committee is chaired by Sen. Joan Huffman, whom Lt. Gov. Patrick claims has a "solid pro-Second Amendment record." This record includes voting against the Constitutional Carry for Disasters bill this past spring, and blocking numerous other pro-gun bills in her Senate committee.
This version of "pro-gun" is absolutely unacceptable.
Gun Owners of America will continue to stand strong against ANY expansion of background checks.
We will fight against any form of gun control, no matter who promotes it.
And we need your help.
Please email Lt. Gov. Patrick's office immediately with the form above.
And then if you have time, we need you to do one more thing.
Please call Lt. Gov. Patrick's office at 512-463-0001.
Tell his staff that Lt. Gov. Patrick must IMMEDIATELY take back his statements on background checks and stop promoting gun control.
Instead, if he wants Texas to be safe, he needs to join us in fighting for Constitutional Carry and ending "gun-free" zones so it is easier for law-abiding Texans to carry guns to defend themselves.
Don't delay — contact Lt. Gov. Patrick TODAY!
Featured GOA News & Updates