Joe Manchin Gun Control Trump
Written by AWR Hawkins
Published: 27 March 2017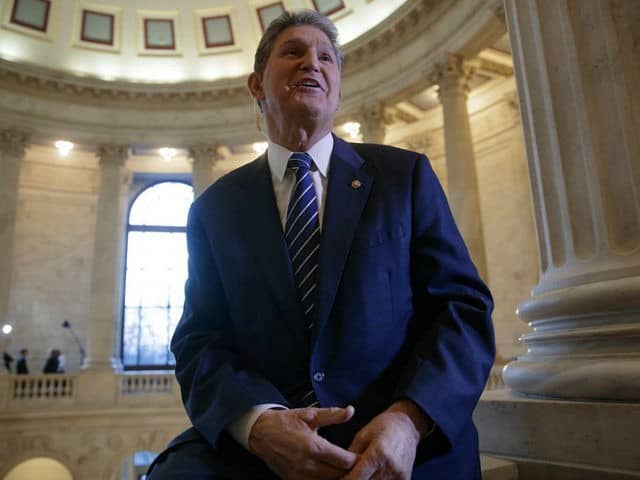 On March 26, the New York Times Magazine described Senator Joe Manchin (D-WV) as "the Senate Democrat who… seems closest to [President] Trump" and who believes he may actually secure gun control under the Trump administration…
According to the NYT Mag, Manchin appeared on MSNBC's Morning Joe on December 14, 2016, the 4th anniversary of the heinous attack in which 20-year-old Adam Lanza stole guns, killed his mother, then went to Sandy Hook Elementary and killed 26 more innocents. While on air, Manchin again voiced support for his pet gun control item — an expansion of background checks in response to the Sandy Hook attack.
Within an hour after his segment ended, Manchin received a phone call from Donald Trump. And while he did not divulge details of the call, he told NYT Mag reporter Robert Draper that he believes he has "a complete opportunity" to secure gun control under Trump.
Draper said Manchin believes his gun control has a chance it never had under Barack Obama because "no one thinks President Trump would do anything that would take away your gun rights." The problem with this claim is that Manchin's gun control — universal background checks- – cripples gun rights by coupling private sales with retail sales and forcing Americans to seek out an agent of the state for permission to conduct either kind of sale. Moreover, history — even recent history — has proven beyond a shadow of a doubt that universal background checks are insidious; they lead to more and more gun control and especially to a gun registry…
One more problem with Manchin's universal background checks — they have nothing to do with the attack on Sandy Hook. As noted above, the Sandy Hook attacker stole his guns. In fact, even Manchin admitted his universal background checks would not have stopped the attack had they been in place. Manchin made this admission during the April 14, 2013, airing CBS News's Face the Nation.
Featured GOA News & Updates