Grassley and Ernst are the Key to Defeating Gun Confiscation!
Written by Michael Hammond
Published: 20 March 2019
TAKE ACTION: Urge Grassley and Ernst to Defeat Red Flag Gun Seizures!
Urge Senators Chuck Grassley (R) and Joni Ernst to OPPOSE red flag gun seizures.  You can use the box below to email both of them — and you will be provided a letter with pre-written text that you can edit. 



Judiciary Committee to Hold Hearings in Favor of Gun Confiscation
Your two Senators — Chuck Grassley and Joni Ernst — have the power to make Gun Confiscation Orders DOA in Congress.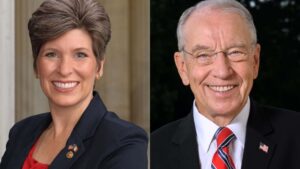 But we have to act quickly.
Judiciary Committee Chairman Lindsey Graham has scheduled a hearing on Gun Confiscation Orders for March 26.
And both of your Senators sit on the powerful Judiciary Committee.
Hence, they will be the deciding votes as to whether this bill gets voted out of committee and gets sent to the floor!
So it is imperative that you contact your two Senators immediately — and urge opposition to these horrendous Gun Confiscation Orders (like S. 7 and S. 506).
You can email them above or call them at:
Senator Chuck Grassley — 202-224-3744
Senator Joni Ernst — 202-224-3254
Red Flag Gun Seizures Turn Due Process on its Head
Under these Orwellian bills, the police or an angry relative can telephone a judge and get a Gun Confiscation Order to strip a gun owner of his Second Amendment-protected rights — with no due process whatsoever.
The first thing the gun owner would learn of the process is when a SWAT Team arrived at his home in the middle of the night — ready to ransack his home and, if he resisted, to arrest or kill him.
Think this is far-fetched? Within the last few months, police summarily executed 60-year-old Ferndale, Maryland, resident Gary Willis while serving a 'red-flag' order at 5:17 a.m. in the morning.
Sure, one can spend $10-20,000 to hire a lawyer and try to convince the judge he made a mistake. This is a fool's errand and it turns our system of justice on its head.
The government should prove that people are guilty; it should not be individuals proving they are innocent.
Again, please take action and urge Senators Grassley and Ernst to reject Red Flag Gun Grabs!