Pro-Gun Bill Moves Forward in Boise
Written by Jordan Stein
Published: 06 March 2019
Keep Up the Pressure for HB 206
Email your lawmakers to support Constitutional Carry Expansion!
Urge your State Lawmakers to Support Pro-Gun Bill
Despite the narrative of the mainstream media, pro-gun bills across the country are picking up steam.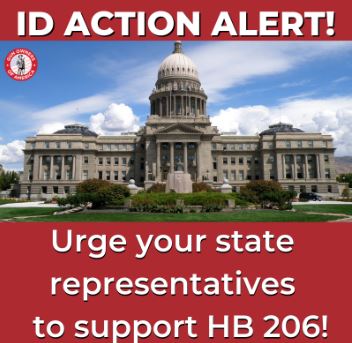 And thanks to the tireless efforts of gun owners in Idaho, and our friends at the Idaho Second Amendment Alliance, Constitutional Carry Expansion (HB 206) is moving through the legislature.
In fact, Rep. Christy Zito's HB 206, which would allow 18-20-year-old individuals to Constitutionally-Conceal Carry throughout Idaho, passed out of committee by a 13-2 vote, even picking up the vote of a Democrat!
The bill could be brought up in the full House as early as this week, so please take action above and urge your representatives to vote for this bill!
Thanks in advance for taking action.  
Featured GOA News & Updates