Pro-Gun Legislation is Fourteenth Most Popular Bill in Congress
Written by Jordan Stein
Published: 09 June 2017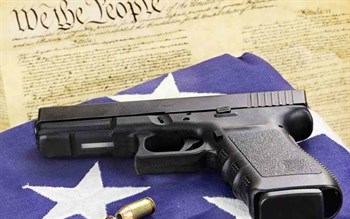 Gun Owners of America (GOA) announced that the Concealed Carry Reciprocity Act of 2017 is ranked fourteenth in number of cosponsors out of more than 2,700 bills in Congress.
---
H.R. 38, introduced by Rep. Richard Hudson (R-NC), would allow eligible concealed carriers to carry firearms across the country. According to GOA, this bill is in the 99th percentile of all legislation in the 115th Congress with 195 cosponsors. 
Rep. Hudson credited GOA as a driving force behind the surge of cosponsors.  
"A lot of that [success] has to do with grassroots organizations like Gun Owners of America pushing to get more cosponsors," Rep. Hudson told a congressional audience. 
Click here to see more GOA News articles like this one.
Furthermore, Erich Pratt, Executive Director of GOA, pointed to grassroots activists as the reason for the bill's success.
"The popularity of the bill is a testament to the activism of GOA members across the country," Pratt said.  "This bill is needed for gun owners because it would ensure citizens can protect themselves while traveling and prevent them from becoming unintentional criminals."  
Despite the success of the bill, GOA is striving to get over 200 cosponsors on the bill.
Erich Pratt, or another GOA spokesperson, is available for interviews. Gun Owners of America is a nonprofit lobbying organization dedicated to protecting the right to keep and bear arms without compromise. GOA represents over 1.5 million members and activists. For more information, visit gunowners.org.
Featured GOA News & Updates