House Votes Reciprocity
Written by Bennie Garza, GK Men
Published: 06 December 2017
House will vote on concealed carry reciprocity bill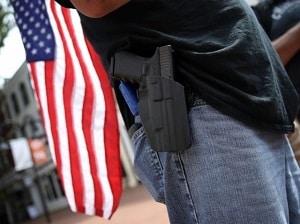 Gun Owners of America supports [constitutional carry] reciprocity but is characterizing the background check enhancement as the "Traffic Ticket Gun Ban" that would "add hundreds of thousands of additional names into the NICS system, thus blocking thousands of lawful gun owners from purchasing guns for offenses as slight as unpaid traffic tickets".
---
House will vote on concealed carry reciprocity bill
With a House version of national concealed carry reciprocity measure likely to be merged with a plan to fix the nation's background check system, not all are on board.
The bill could go to a floor vote this week. In other words, Georgia and other states would have more say than NY in determining how many guns are safe to have on the streets of Manhattan. "Coming from a state with a powerful anti-gun executive branch and no shortage of gun control laws, we are very sensitive to how things actually work on the ground". "If I'm in that room, and let's say we have two or five or 40 people with guns", he hypothesized to voters, "we're going to do a lot better because there's going to be a shootout".
Gun Owners of America supports [constitutional carry] reciprocity but is characterizing the background check enhancement as the "Traffic Ticket Gun Ban" that would "add hundreds of thousands of additional names into the NICS system, thus blocking thousands of lawful gun owners from purchasing guns for offenses as slight as unpaid traffic tickets"
Read More at GK Men