House to Vote Today on Gun Bill
Written by admin
Published: 06 December 2017
House Set to Vote on Combined Gun Bill Today
---
Not a GOA member yet?  You can join Gun Owners of America today for only $20 — and this will double your contribution because of our matching fund!
---
GOA will not advocate for a bill enforcing gun control
Dear Friend: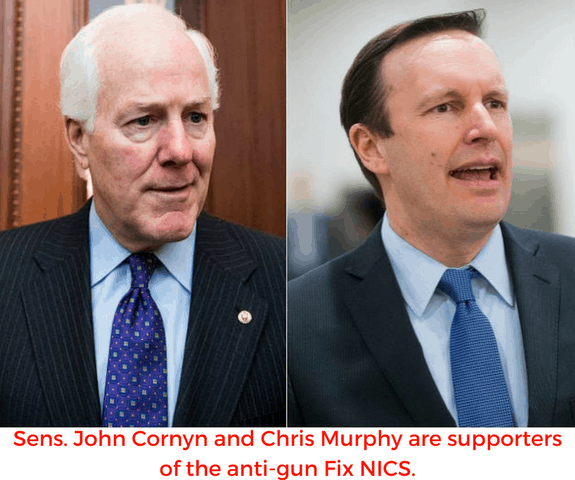 Yesterday, the House Rules Committee voted to combine the reciprocity and anti-gun "Fix NICS" bills (H.R. 38 and H.R. 4477).
The combined bill now goes to the House floor, with votes scheduled for today.
Because of the united push from gun control groups, the NRA and many House Republicans, the "Fix NICS" portion has an OVERWHELMING majority in the House. 
Not only that, a stand-alone "Fix NICS" bill has an OVERWHELMING majority in the Senate. This is further evidenced by the fact that Republican Senate leaders Mitch McConnell and John Cornyn — along with Democrat leaders Chuck Schumer and Chris Murphy — are all cosponsors and strongly supporting Fix NICS (S. 2135).
So the result of passing the NICS bill apart from reciprocity would be for gun control to be fast-tracked to President Trump's desk, while reciprocity died under a Schumer-led filibuster.
Interestingly, Senators Cornyn and Murphy did NOT want a combined bill because they want to send Fix NICS legislation to the President.
Senator John Cornyn was quoted in the Daily Caller as saying:
We have good bipartisan support for [Fix NICS]. It's really important and it will save lives, but if we start trying to add other things to it [like concealed carry reciprocity], then I think we risk not doing anything which has sort of been the fate of a lot of the legislation we've tried in the past. So, I'd like to do the fix NICS and then we can move on from there. 
Anti-gunners Oppose Combining the Two Bills
Senator Cornyn was not alone in wanting to keep the bills separate.
Democrat Senator Chris Murphy (CT) said that this combined bill would be D.O.A. in the Senate, as he considers concealed carry reciprocity a poison pill.  And he was quoted in The Washington Post as saying that the combining of the two measures "is to risk nothing happening." 
Prominent anti-gunners in the House also oppose combining the two bills.
When appearing before the House Rules Committee yesterday, Democrat Representatives Jerry Nadler (NY) and Sheila Jackson Lee (TX) argued against combining reciprocity and Fix NICS.
Also appearing before the committee, Rep. Dina Titus (D-NV) complained that including concealed carry reciprocity in the bill was a "poison pill" that would kill the Fix NICS legislation.  She announced that she wanted to offer an amendment to strike the concealed carry reciprocity language — a request which was denied by the committee. 
Outside of Congress, Moms Demand Action does NOT want a combined bill because they want a Fix NICS bill without reciprocity.  You can see their tweet here.
Same with Bloomberg's Everytown, which opposes combining the two bills.
What all these anti-gun legislators and groups realize is that merging the two bills would be the best way to kill the Fix NICS legislation.
Unfortunately, because of a few Red State Democrats, we don't have the votes right now to pass reciprocity in the Senate.
And that means that the most likely outcome of two separate bills moving through the House would be for the NICS bill to ultimately get signed into law while reciprocity dies. 
Now that the House Rules Committee has combined the two provisions, GOA is not advocating for the bill, because we don't want to pass a bill to make an unconstitutional system deny additional law-abiding citizens from exercising their rights. 
(You can view our earlier alert here to see why the Fix NICS bill could better be termed a "Traffic Ticket Gun Ban.")
Having said this, gun owners should realize the silver lining that has emerged.  The combined bill has tremendously frustrated the anti-gun Left, because now they fear the NICS bill is dead — if the House passes the bill today.
What Happens Now?
So, the two provisions (both good and bad) have now been joined together in H.R. 38.  The House is scheduled to vote on the combined bill today. 
Gun owners will assuredly want to know: What happens next?  
Well, if the House does pass Fix NICS with reciprocity, then the Senate will most likely kill the background check language because, as we stated above, leading Republicans and Democrats do NOT want the bills combined.
As recently as yesterday, Senator Chris Murphy said that such a combined bill would be dead on arrival in the Senate.
Of course, the Senate could attempt to strip the reciprocity portion of the bill and send only gun control back to the House.  But having just passed reciprocity, the tables would be turned and a vote to pass Fix NICS as a stand-alone bill in the House at that point would be considered a vote to kill reciprocity — putting our side in a much stronger position to vote it down.
What happens if the House defeats the combined bill?  If Senator Cornyn has his way, the Senate will quickly try to send a Fix NICS-only bill to the House.  
Will the Senate Move Quickly to Pass Fix NICS?
When asked by The Daily Caller if Sen. Cornyn preferred to wait until the next Congress to pass concealed carry reciprocity, Cornyn replied, 
Well I want to get this background check problem fixed as soon as possible, hopefully even this week here in the Senate. And I don't want to do anything [such as reciprocity] to bog down our ability to get that done. I do think at some point we should take up constitutional carry, because I think it's important but combining them, I think, is to risk nothing happening.
If the Senate were to pass a stand-alone NICS bill, the House would most likely agree to it and send it to President Trump.
So if the House defeats the bill today, we will have to expend a herculean effort in trying to kill the Traffic Ticket Gun Ban.
And we will be calling on all our members to bombard their legislators in opposition to a bill that (sadly) has tremendous support in Congress.
Things are happening quickly.  
Please stay tuned for more details as they become available.
In Liberty,
Erich Pratt
Executive Director
Follow me on Twitter: @erichmpratt