GOA Statement on the Death of Amir Locke During a "No-Knock" Police Raid
Written by Gun Owners of America
Published: 08 February 2022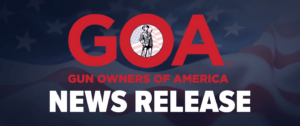 Gun Owners of America awaits an investigation into this very troubling episode in Minnesota where Amir Locke – a gun owner with no publicly known criminal history or formal accusations of any crime – was killed by Minneapolis police.  
For years, GOA has been concerned about how "no-knock" warrants threaten the safety of innocent Americans and law-abiding gun owners. For this reason, GOA filed an amicus brief in Quinn v. Texas, where an innocent father was also killed in a "no-knock" raid by police. 
The only justification for the no-knock raid in Quinn v. Texas was that John Quinn owned a firearm. The police claimed that firearms ownership was enough to present a danger to law enforcement, even though they knew Quinn had a concealed carry permit — meaning the state of Texas had pronounced him to be a safe, law-abiding citizen. 
GOA is not a police reform organization. However, when police actions conflict with Second Amendment rights, GOA will not hesitate to insert ourselves in the public policy debate. This is why we are speaking out today and why we have concerns about the situation in Minnesota. 
Amir Locke's family confirms he had a permit to carry a gun for self-defense at his delivery job. While the video does appear to show he had a firearm in hand, that is not an unwarranted action on someone's part when they're woken up in the middle of the night to loud shouting. Not to mention the fact that we have seen other cases where home invaders pose as police to get the upper hand on their intended victims. 
GOA is strongly committed to protecting people's right to defend their lives. With our review of the currently available facts, we are very troubled and saddened by the killing of Mr. Locke and call upon legislators to ban "no knock" raids where no life is in imminent danger. 
There are many valid questions that need to be answered.  We will not rush to judgment because many initial reports are often wrong or incomplete. That was the folly in the Michael Brown incident; and Obama's FBI later determined – and it was also confirmed by The Washington Post's Jonathan Capehart – that the "hands up, don't shoot" narrative was a lie. So, we look forward to a full investigation to get to the bottom of this tragic affair and see if specific policies were followed or violated, so the appropriate people can be held accountable. 
Featured GOA News & Updates