GOA Not Happy That Trump Is Supporting Red Flag Laws
Written by Heath Druzin, KERA News
Published: 08 August 2019
President Donald Trump likes getting a reaction from his base, though maybe not the one he's getting this week. After Trump expressed support for certain gun control measures, some of his staunchest allies in the gun rights community say they may abandon a man they once saw as their best hope for expanding gun rights.
On Monday, Trump addressed the country from the White House after mass shootings in El Paso, Texas, and Dayton, Ohio, left more than 30 people dead and 53 injured.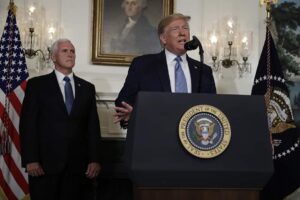 "We must make sure that those judged to pose a grave risk to public safety do not have access to firearms," Trump said. "And if they do, those firearms can be taken through rapid due process. That is why I have called for 'red flag' laws, also known as Extreme Risk Protection Orders."
Gun rights groups were not thrilled….
"We cannot forget that guns are not the problem," Erich Pratt, senior vice president of Gun Owners Of America, said in a Facebook Live video on Monday. "They are overwhelmingly used for good."
Pratt thinks there will be more massacres if this type of gun control passes….
The NRA gave initial support for "red flag" laws in the wake of the 2018 mass shooting in Parkland, before cooling on the idea. In response to Trump's call this week for a "red flag" law, the group issued a tepid statement supporting restricting access to guns for those "adjudicated as a danger to themselves or others."
Featured GOA News & Updates