GOA and GOF Secure Preliminary Injunction Against Illinois "Assault Weapons" Ban and Magazine Ban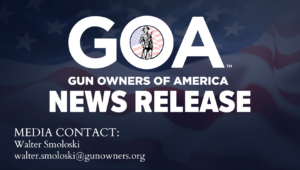 Washington, D.C. — Today, Gun Owners of America (GOA) and the Gun Owners Foundation (GOF) secured a preliminary injunction against the Illinois "Assault Weapons" Ban and the Standard-Capacity Magazine Ban.
In his order, Judge Stephen McGlynn slammed some of the gun control laws in question, stating they "seem to be written in spite of the clear directives in Bruen and Heller, not in conformity with them."
Erich Pratt, GOA's Senior Vice President, issued the following statement:   
"Governor Pritzker and his anti-gun cabal in the legislature thought they could steam roll the Second Amendment, and this ruling makes clear that they abused their authority and infringed on their citizens' rights. We look forward to continuing this fight." 
Sam Paredes, on behalf of the Board for GOF, added: 
"We are excited about this ruling and thrilled to see such strong commentary from Judge McGlynn. Especially as GOF celebrates its 40th anniversary today, what a great present for us and the American people. We will continue to hammer the point home to anyone who hopes to infringe on our rights – fall in line, or we will make you." 
GOA spokesmen are available for interviews.  Gun Owners of America is a nonprofit grassroots lobbying organization dedicated to protecting the right to keep and bear arms without compromise. GOA represents over two million members and activists. For more information, visit GOA's Press Center.
Featured GOA News & Updates