General Petraeus Opposes GOP Efforts to Repeal Gun Ban for Military Veterans
Written by AWR Hawkins
Published: 14 March 2017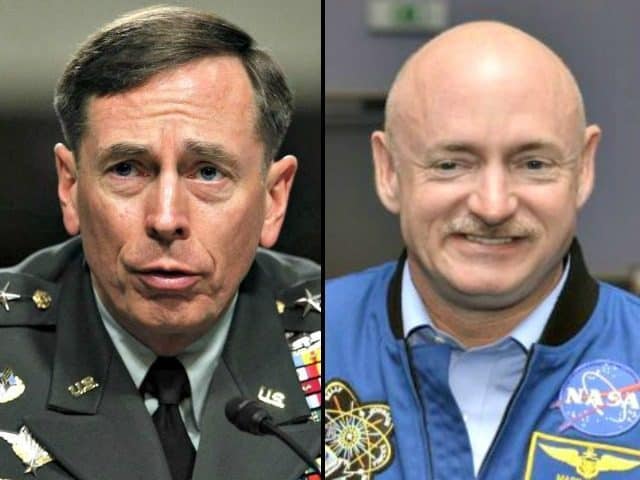 On March 13 Breitbart News reported that House Republicans were eyeing a repeal of the gun ban for military veterans. On March 14 retired Army General David Petraeus and his gun control group blasted the proposed repeal as "irresponsible and dangerous." 
[Gun Owners of America has opposed General Petraeus twice for an appointment in the new administration and has been credited with running a successful grassroots lobbying campaign against his potential nomination for Secretary of State.  GOA also opposed him when he was being considered for National Security Advisor.]   
The gun ban for military veterans works similarly to the recently repealed Social Security gun ban, in that it allows investigations to be opened on military disability recipients who require help managing their finances. Recipients who are declared mentally "incompetent" then face a prohibition on purchasing or possessing guns.
[Gun Owners of America has long opposed the Veterans Disarmament Act of 2007, which has resulted in the disarmament of more than 257,000 military veterans.  These individuals have been convicted of no crime whatsoever, but typically are getting counseling for PTSD or similar ailments.]
House Committee on Veteran Affairs chairman Phil Roe (R-TN-1) put forward the Veterans 2nd Amendment Protection Act to repeal this ban, but Petraeus opposes the repeal.
According to USA Today, Petraeus and the gun control group he formed with Mark Kelly–Veterans Coalition for Common Sense–sent a letter to House Republican leaders, saying, "When vulnerable veterans have access to firearms, they can do harm not only to themselves but also to family members and loved ones. The impact of these tragedies is felt in communities across our nation."
[Gun Owners of America favors repealing the entire Veterans Disarmament Act of 2007.  And, as Barack Obama demonstrated, the VDA lays the foundation for all kinds of gun bans — including the Social Security Gun Ban, which was recently repealed by President Trump.  GOA fought this ban both last year (after the Obama Administration issued the regulations for it) and this year (by activating grassroots gun owners to petition Congress and the White House for a repeal).]
Roe's Veterans 2nd Amendment Protection Act is expected to be taken up by the full House as early as this week.
Featured GOA News & Updates