Florida, An Example Of Why Legislative Dictatorships Are Bad
Written by Luis Valdes, Guest Contributor, Looser Rounds
Published: 17 February 2021
Senate President Wilton Simpson (R-10) continues to assault the Constitution and does so under the color of the law by abusing the power of his office. As Senate President, he has closed the Senate to both the public and lobbyists. The word "lobbyist" often conjures an image of a charlatan, someone who has no scruples and sell out to the highest bidder.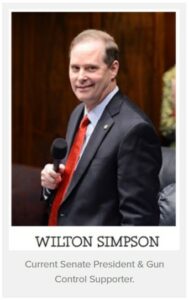 In some cases that is true. But as the Florida Director for GOA, I am a lobbyist and Sen. Simpson's decision means that I cannot enter the Senate nor talk to Senators to represent GOA members. Sen. Simpson's actions want to stop GOA and others from amplifying your voice in Tallahassee.
What does Sen. Simpson think about you? He jokingly suggested the pandemic could have positive benefits for lawmakers.
He let it slip while on The Florida Channel of what he thinks of us.
"I think we're going to be a whole lot more productive," Sen. Simpson said. "And it's kind of nice, right? It's kind of like, 'Hey, this way it should be.' Does anybody have a problem with 25 lobbyists not piled up in your office? This is going to be a very productive session with all the leeches outside. I mean, not the leeches. Leaves outside."
But this isn't just about Sen. Simpson locking me out of the Capitol. This is about Sen. Simpson LOCKING YOU OUT OF THE CAPITOL. Sen. Simpson's actions prevent you, the voter and constituent from walking into YOUR STATE CAPITOL and TALKING TO YOUR LAWMAKERS.
Those that hold office in Tallahassee work for you. You have the right to exercise your First Amendment protections and should be able to do so by simply walking into you lawmaker's office. By Sen. Simpson declaring that the Capitol is closed due to COVID-19, he has effectively silenced you.
This isn't the first time Sen. Simpson has shown a demeaning attitude towards Floridians.
He authored SB 7026, the gun control that passed after the Stoneman Douglas High School shooting on February 14, 2018. He had no problem stripping the lawful rights of honest Floridians by violating the Fourth Amendment to go after the Second Amendment with Red Flag laws. He had no problem stripping any Floridian under the age of 21 from the legal ability of purchasing a long gun with his Under 21 Gun Purchase Ban. He had no problem with the banning of lawful property like Bump Stocks and similar accessories with his convoluted ban on firearm accessories.
Sen. Simpson is using his office as a steppingstone to further crush our rights. He is politically ambitious and coveting the Florida Agricultural Commissioner's seat in 2022. That would put Sen. Simpson in charge of the agency responsible for issuing Concealed Carry Weapon Permits. He would have no problem siding with Nikki Fried (D-Ag Commissioner) in instituting gun control. Fried has already hinted that she wants to run for Governor in 2022. That would be a horrible combination in Tallahassee for sure.
Florida is under a Legislative Dictatorship and Wilton Simpson flaunts it.
Locking the public out of the Capitol (a public building) is unacceptable and a violation of your First Amendment rights. It is actions like these that turn Florida into "Banana Republic". His decision reeks of authoritarianism and despotism.
Read more at Looser Rounds