Rep. Anthony Sabatini (R-FL) to introduce Constitutional Carry. Third time's the charm?
Written by Luis Valdes
Published: 02 September 2021
Gun Owners of America and Florida State Representative Anthony Sabatini held a press conference recently at the Florida state capitol to bring Constitutional Carry to the forefront.
It was a smashing success. BearingArms.com ran a story blaring this headline: "GOA Seeks To Put Pressure On Florida Leaders For Constitutional Carry."
And even the Tallahassee Democrat had this glowing report:
With empty gun holsters strapped to their belts, around 50 gun rights advocates rallied at the Florida Capitol Monday afternoon.  

Led by state Rep. Anthony Sabatini, R-Howey-in-the-Hills, an outspoken conservative currently running for Congress, the group gathered to display their support for relaxed gun laws in the Sunshine State.  

While flanked by two representatives from Gun Owners of America, a grassroots non-profit, Sabatini announced plans to file a bill, for the third year in a row, that would allow "constitutional carry," including open carry, in Florida. 

Sabatini called out his fellow Republicans, some by name, including House Speaker Chris Sprowls, for not doing enough for gun rights. Sabatini was joined by two representatives from Gun Owners of America – Erich Pratt and Luis Valdes.
GOA is Putting the Heat on feckless, compromising RINOs 
Why was there a need for a press conference and rally? Because the Republican party in Florida has stated numerous times that they don't feel pro-gun legislation is an issue this coming session, and they don't feel it needs to be brought up for debate.
Mind you, the Biden Administration is going all-out in its assault on our Second Amendment rights.
At the capitol, Rep. Sabatini and GOA were joined by patriotic gun owners who were tired of the old song and dance routine that the state's legislative leadership has been producing.
They were united in sending one message: it's time for the Florida legislature to pass Constitutional Carry legislation.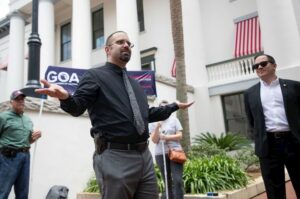 As I told the crowd that day:
"Commissioner of Agriculture & Consumer Services Nikki Fried exemplifies the issues with our permit system of being treated guilty until proven innocent, instead of innocent until proven guilty."
I also pointed out that Florida is only one of four states in the entire country that bans open carry (it's only legal while actively hunting or fishing) and wore an empty holster as a sign of protest against such outdated laws.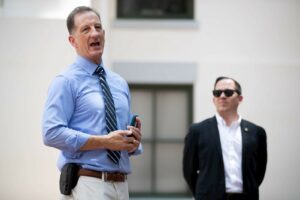 Erich Pratt, our Senior Vice President was there and asked:
"What's the best reason this Republican-led legislature should pass Constitutional Carry? Because it's in the Constitution. The right of the people to keep and bear arms shall not be infringed!" 
Rep. Anthony Sabatini concluded: 
"Floridians should be able to exercise their Second Amendment right without a permission slip from the government. Bearing arms is a fundamental constitutional right… I'm looking forward to … getting this bill passed!" 
Gun Owners came from all across the state to show their support for GOA.
This is the third time that Rep. Sabatini has introduced a Constitutional Carry bill in the legislature. Thus far, he's the only Florida lawmaker to do so. No other legislator has done so, even though the state has a Republican governor and Republican supermajorities in Tallahassee.
These politicians should be tripping over each other trying to expand firearms freedom, yet all we see is one lone lawmaker currently trying to advance liberty.
In 2018, Governor Ron DeSantis while running for the RPOF's nomination told the press he's pro-gun.
While the Governor has told Sabatini that he will sign the bill if and when it's sent to him, DeSantis has not yet publicly called for the bill's passage. Sadly, last year's bill (HB 123) died in the House's Criminal justice & Public Safety Subcommittee, which is chaired by Republican Representative Cord Byrd.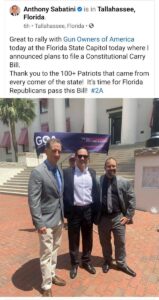 But neither Rep. Sabatini nor GOA will give up on the hard fight ahead.
The question is, will anyone else in the Florida Republican party join the fight? 
For that to happen, it starts with you putting pressure on your lawmakers. NEVER GIVE UP!
Featured GOA News & Updates