Week Two Report Of Florida's Legislative Session
Written by Luis Valdes
Published: 13 March 2021
What is happening with the Second Amendment in the Legislature
Here's the scoop on what has happened this past week. As your State Director, I've been on the ground in Tallahassee amplifying your voices in the very halls that the legislative leadership have tried to block you out of.
Yes, the Capitol is still closed to the general public and no one can go inside to meet with their lawmakers to voice their concerns unless they have a scheduled meeting.
But now, it has gotten even more draconian. The FL Capitol Police at first would simply verify that you had an appointment and let you in the building. Now, under the direct orders of the Senate President and House Speaker, you must be escorted by someone directly to and from your meeting location. If no one from the office you have a meeting with comes down to the security checkpoint, you will not be allowed to enter.
Yes, they're treating the Capitol as if Area 51 is under lockdown because the aliens broke loose and are running amuck. So much for the Capitol being the People's Building.
On the legislative front regarding gun bills: SB 498 and HB 259, the church carry bills, passed their second committee hearings. And, of course, GOA was there speaking in support of those bills and making sure the bad amendments didn't get far.
These two bills wouldn't have passed their second committee hearings if it wasn't for your hard work and effort in contacting your lawmakers.
SB 498 especially faced a hard fight since the committee it was being heard in was chaired by a Democrat who tried to push two amendments to gut the bill and make it become an anti-gun bill.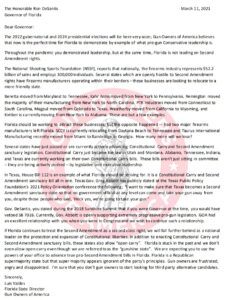 Keep up the hard work and keep up the hard fight! It was because of your efforts that these bills were voted favorably on March 9 and March 10.
As we said, GOA is on the ground at the Capitol. But the fight we're waging isn't just with the legislature. We are also making sure that the Governor hears your voices, too.
I have received numerous emails from you with ideas regarding how Florida should move forward in this political environment and I want to let you know, I read those emails and GOA takes them into consideration.
On March 11, we sat down with Gov. DeSantis' staff and discussed the very issues you have emailed me about.
So what did we present to his staff?
We discussed how Florida should be passing a solid Second Amendment Sanctuary laws and how as Governor, he should be spending political capital in supporting legislation like HB 123 (Constitutional Carry) and HB 6001 (Campus Carry).
Currently, those bills are languishing in the House's Criminal Justice & Public Safety Subcommittee. We emphasized that without the Governor's support, those bills will not move forward.
We also brought up how there have been a number of gun companies fleeing oppressive states and that Florida should be having them move here. But the most shocking thing, is that we have gun companies in Florida leaving for other states.
Even though the Capitol might be closed to the public, they will still be able to hear from you through your bullhorn, the GOA.
Why? Because I mailed out our letters to every lawmaker that I wasn't able to physically visit during the first week of session.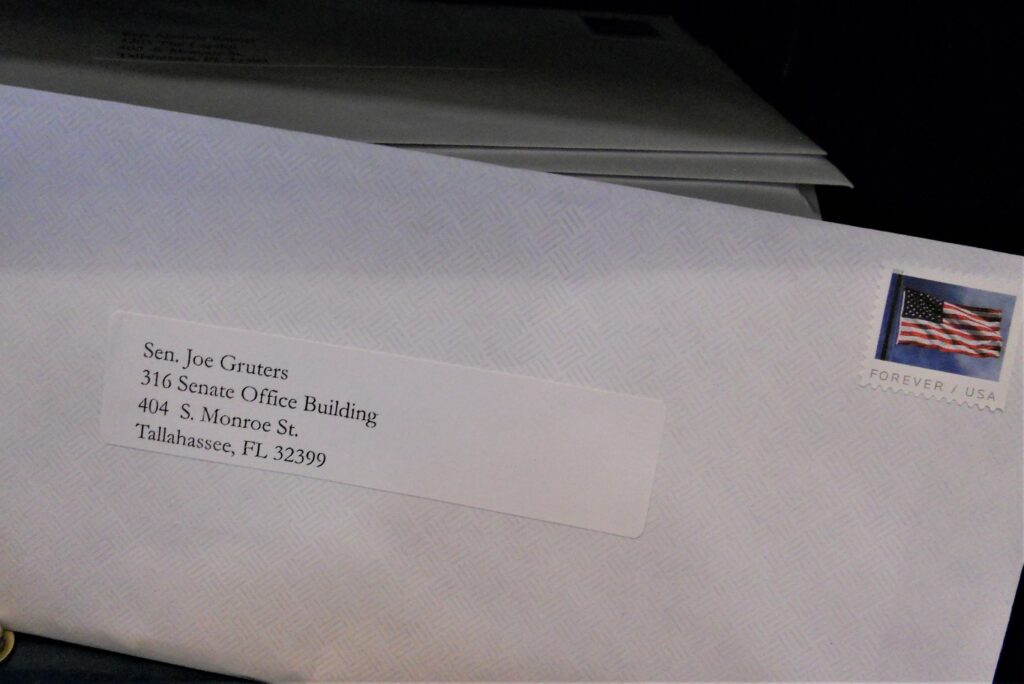 This week, I emphasized to the Governor's staff that without his support, these pro-gun bills will not move forward. But it's also true that without your support, they won't move forward either.
As gun owners, you must be loud, proud, and ACTIVE! Make noise!
Overload their email inboxes, voice mail (the Senate is 850-487-5229, the House 850-717-5000, and the Governor's Office is 850-717-9337), and physical offices with letters.
Remember what Sen. Baxley said back in 2019:
"Republican Lawmakers don't support pro-gun legislation because they don't hear any negative criticism from their constituency. They take the silence of gun owners as approval."
Email Governor DeSantis so he can use his office as a bully pulpit to support pro-gun bills and don't forget to email the entire the House and Senate to support pro-gun legislation.
Featured GOA News & Updates