Chelsea Handler Rips Gun Owners: Your 'Hobby' is Getting People Killed
Written by AWR Hawkins
Published: 06 June 2017
Chelsea Handler Rips Gun Owners: Your 'Hobby' is Getting People Killed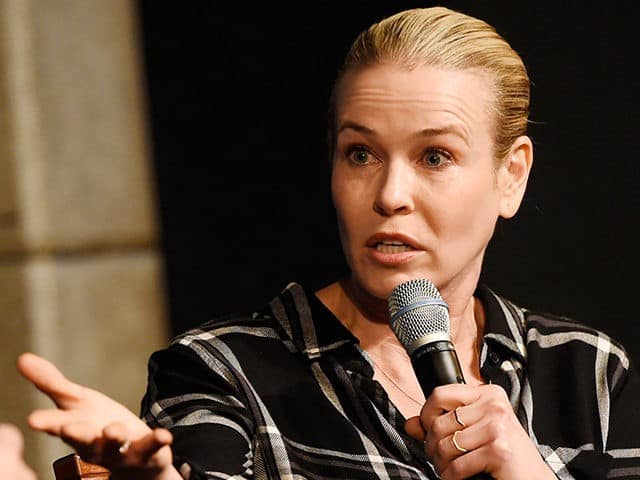 Chelsea Handler has blasted the "gun lobby" and issued a renewed call for increased gun control measures days before the talk show host is set to be honored at the anti-gun Brady Center Bear Awards Wednesday night.
In an interview with the Hollywood Reporter this week, Handler said she believes President Donald Trump loves the "gun lobby" and "doesn't give a sh*t about people."
In fact, Handler contends that Trump "doesn't care about anybody."
Handler told THR:
Obviously, [the state of] gun control in this country is totally unacceptable, and the gun lobby is so strong and so powerful that anytime a celebrity can bring attention to this cause — among many other [causes] — you know it's an easy thing for anyone to do. We're way behind the times in terms of gun control in this country, and it doesn't seem like it's going anywhere anytime soon. Our voices just need to keep getting louder, and the people that make an impact need to really just step up and stick their necks out a little bit more.
THR then pointed to the NRA's support of Trump during last year's campaign campaign and Trump's pro-Second Amendment stance then and now. Handler responded, "People need to be louder than ever with this president and his relationship to the gun lobby. He doesn't give a s—about people. He doesn't care about anybody."
The host of Netflix's Chelsea also appeared to suggest that gun ownership is nothing more than a "hobby."
"Nobody is trying to take away your guns. If you want to go shoot, you know, whatever, in the woods, that's fine, but it's a hobby," she told THR. "If your hobby is [affecting] innocent people being killed all the time, children included, don't you think you should reconsider the lack of restrictions placed on your hobby?"
Handler mentioned a few specific gun controls she believes are needed, such as "heightened… restrictions on buying guns." The left has been pursuing such restrictions in the form of universal background checks for decades, but the American people have continually elected people–either to Congress, the White House, or both–who will prevent such checks from being put in place. The opposition to the checks springs from the understanding that they not the real goal of the left. Rather, the goal is the gun registration that follows such checks (see California).