Calls For "Red-Flag" Gun Confiscations Heat Up Again
Written by Brandon Waltens, Texas Scorecard
Published: 06 August 2019
After the tragic mass shooting in El Paso on Saturday, calls for "red-flag' gun confiscation laws are stacking up, with at least one Texas Republican publicly supporting the measure.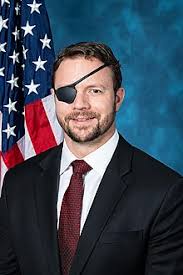 U.S. Rep. Dan Crenshaw (R–TX), who is currently serving his first term in Congress, took to Twitter on Sunday to suggest that implementing state "red-flag laws," in which guns could be confiscated without due process from those suspected to have mental health issues, may be a solution to curbing violence.
President Donald Trump echoed Crenshaw's call Monday morning, saying, "Mental illness and hatred pulls the trigger, not the gun," adding that he would consider "red-flag" legislation and background checks. His comments came without any vocal opposition from the National Rifle Association—which bills itself as "America's foremost defender of Second Amendment rights."
Meanwhile, other gun rights organizations are holding their ground.
Rachel Malone, the Texas director for Gun Owners of America, said in a statement that the shooting underscored the need to "remove barriers that hinder law-abiding citizens' ability to take responsibility for their own safety."
A fierce opponent of legislation that would further erode the Second Amendment, GOA has, moreover, been a strong supporter of constitutional carry legislation to remove the permit requirement to carry a handgun.
"The barbaric attack in El Paso highlights the truth that Texas' permitting system for gun carry harms minorities disproportionately, adding unnecessary barriers that do not increase safety but only decrease Texans' ability to carry a firearm as an effective defense tool," Malone added. "Permit requirements do not keep criminals from committing despicable crimes; they only add barriers for law-abiding citizens who want to save their own lives."…
Featured GOA News & Updates