Gun Range Ends Ladies' Night After Man Threatens Legal Action for Discrimination
Written by AWR Hawkins, Breitbart
Published: 28 August 2017
Gun Range Ends Ladies' Night After Man Threatens Legal Action for Discrimination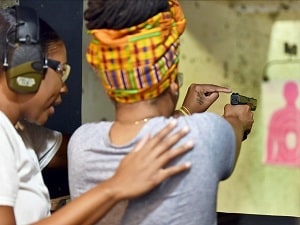 The Riverside Magnum Range just dropped its weekly ladies' night after receiving a letter in which a man threatened legal action for discrimination.
Riverside Magnum Range is located in Riverside, California.
According to CBS Los Angles, the ladies' night allowed women to come to the range and shoot without paying a range fee. Men could come on ladies' night too, but they had to pay. Gregory Rolando complained that the policy was discriminatory and sent a letter citing the possibility of lawsuit.
Click here to see more Self-Defense articles like this one.
Rolando's letter says in part, "Promotions such as those mentioned above constitute civil rights violations under the California Unruh Civil Rights Act and entitle the individual subject to discrimination to statutory damages."
Jason Gouvea had been taking his daughter to shoot on ladies' night, and explained his frustration after hearing it ended over Rolando's letter. He said, "Maybe this guy doesn't have mother or a sister or a daughter, I don't know."
Featured GOA News & Updates