Alleged Gun Thief Busted After Posing for Selfies with Weapons
Written by AWR Hawkins, Breitbart
Published: 28 August 2017
Alleged Gun Thief Busted After Posing for Selfies with Weapons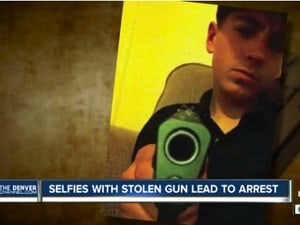 Alleged gun thief Viet Trinh is under arrest after ATF agents tracked him down via selfies in which he allegedly posed with guns from a robbery.
The agents claim 18-year-old Trinh admitted to driving the getaway car for the "smash-and-grab" robbery of a Thornton, Colorado, gun shop.
According to the Denver Post, "An informant who worked with ATF agents witnessed Trinh, Chris Padilla Sr., Chris Padilla Jr., Jay Martinez and Nathaniel "Nate" Aragon climb into a white Honda Civic and a grey Honda hatchback late on Nov. 9 at the Padilla home at 1349 King St." A security camera then allegedly showed the suspects arrive at the gun store at around 4:21 a.m. and "bash [in] the front window."
Click here to see more Self-Defense articles like this one.
They then entered the store and allegedly stole 25 guns.
Agents indicate Trinh "was caught after sending numerous cellphone selfies of himself armed with stolen guns to friends." He allegedly used the messages to discuss the possibility of killing people too.
Featured GOA News & Updates