William Barr Doubles Down in his Support for Gun Control
Written by Erich Pratt
Published: 31 January 2019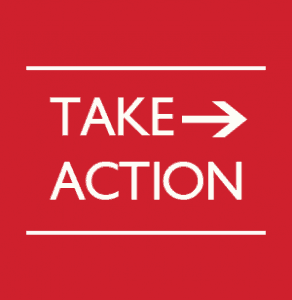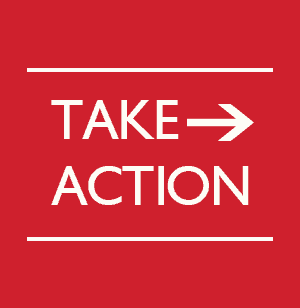 Click on the Take Action button to urge your Senators to oppose William Barr for Attorney General. And then call them at 202-224-3121.
Urge Your Senators to Oppose William Barr for Attorney General
Dear Friend,
The Senate Judiciary Committee is expected to vote next week on the Attorney General nominee William Barr.
Unfortunately, Barr's answers to Senators' questions during a hearing earlier this month showed that he holds a very anti-gun bias.
And after the hearing, several Senators submitted written questions to him — looking for clarification on many issues (including guns).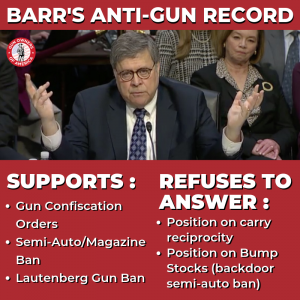 Sadly, Barr either doubled down in his support for gun control or refused to answer important questions — such as whether he supports concealed carry reciprocity.
So it's now doubly clear that Barr will be no friend to gun owners should he assume the office of Attorney General.
Here are just some of Barr's answers in writing:
Barr supports Gun Confiscation Orders: "… it is critical that we get an effective system in place that keeps firearms out of the hands of mentally ill people…  A key part of any such system are laws that allow 'Extreme Risk Protection Orders' [aka Gun Confiscation Orders]." (Barr answer to Sen. Cornyn Question #1.)
Barr explains why he could still support the semi-auto and magazine bans that he supported in 1991: "I would look for … whether [the] burden [of a gun-control measure] has a sufficiently meaningful impact on crime to justify burdening a fundamental right…" (Barr answer to Sen. Kennedy Question #3.)
Barr could possibly support the elimination of the 3-day period for completing a NICS check — thereby allowing the FBI to block a purchase forever, without knowing if the individual was a prohibited person: "I also have not studied whether changes to the three-day waiting period are advisable.  If confirmed, I will review this issue along with other issues affecting public safety." (Barr answer to Sen. Feinstein Question #43.)
Barr refuses to answer whether he believes concealed carry reciprocity legislation is constitutional: "I … am not currently in a position to opine…. The question of whether the Second Amendment, or any other provision of the Constitution, would require one state to recognize another's concealed carry permit is one I have not considered." (Barr answer to Sen. Feinstein Question #44.)
Barr punts on whether a federal ban on bump stocks (which would also affect semi-autos) would be legal: "I would be pleased to review any legislation on this issue." (Barr answer to Sen. Feinstein Question #45.)
Barr supports the Lautenberg misdemeanor gun ban, which takes guns away from people who engaged in shouting matches in the home: "I look forward to working with you and the Committee on this important issue." (Barr answer to Sen. Feinstein Question #46.)
So there you have it.  Barr is not backing down. He would be a disaster for the Second Amendment.
Again, the Senate Judiciary Committee will be voting next week on his nomination.
It is likely that most Democrats will oppose him. But many Republican Senators are wary of going against Trump on this nomination.
So the only hope of swaying them is to convince them that YOU — their constituent — pick up the phone and let them know that you are 100% opposed to this nomination.
Please contact your Senators to urge them to oppose William Barr for Attorney General.
And then please follow it with a phone call. You can reach your senators by calling 202-224-3121.
Thank you so much!
In Liberty,
Erich Pratt
Executive Director
Follow me on Twitter: @erichmpratt
P.S. It's getting down to "crunch time." Please take action and then forward this alert to your pro-gun friends and family.  And if you've let your membership lapse, make sure to renew your membership in Gun Owners of America today for only $20!
Featured GOA News & Updates