ATF Orders 'Cease And Desist' On Manufacture Of Popular 'Honey Badger' AR Pistol
Written by Jake Dima, Daily Caller
Published: 08 October 2020
The Bureau of Alcohol, Tobacco, Firearms and Explosives in August issued a "cease and desist" order to halt the production of the Honey Badger AR pistol, according to a letter from the bureau that surfaced this week.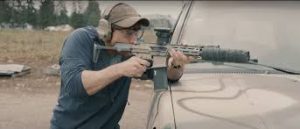 The Q LLC Honey Badger pistol, which fires the .300 blackout cartridge, sports a barrel length under 16 inches and uses a pistol arm brace, which traditionally allowed a firearm to be classified as a pistol under ATF guidelines, even though it is visually similar to a rifle, according to the letter.
However, the ATF decided the Honey Badger was not a pistol Aug. 3 and sent Q LLC a notice to cease production.
Pistol classification allows citizens to own rifle-style, compact pistols with short barrels without incurring a $200 tax stamp and registration status with the bureau, according to Silencer Central.
The ATF decided that the Honey Badger was a short barreled rifle (SBR) and not a pistol after countless units were purchased by the public, meaning those that own the weapon in question may be considered felons for possessing unregistered SBRs, the letter read. SBRs are regulated by the National Firearms Act and must be registered before one can claim ownership, according to the ATF.
"In response, Q has ceased all production of the Honey Badger Pistol, and submitted a comprehensive letter to ATF and the Department of Justice ("DOJ") stating why we disagree with this classification," the company wrote in an Oct. 6 public announcement.
Multiple gun groups have come out against the ATF's decision.
"Once again, gun owners, manufacturers, and dealers are subject to the whims of the anti-gun bureaucrats who run the Bureau of Alcohol, Tobacco, Firearms, and Explosives (ATF)," the Gun Owners of America said in a statement on their webpage.
"ATF's new interpretation regarding the Q, LLC Honey Badger Pistol has created uncertainty for all gun owners, manufacturers and dealers," the group continued. "This is a relatively simple issue that ATF has complicated."
Read more at Daily Caller
Featured GOA News & Updates