All Guns in Antioch Church Shooting Acquired via Background Checks
Written by AWR Hawkins, Breitbart
Published: 28 September 2017
All Guns in Antioch Church Shooting Acquired via Background Checks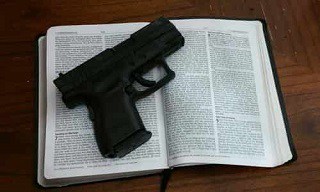 Nashville Metropolitan Police report that four guns were found on-scene following Sunday's Antioch church shooting and all four guns were acquired from retailers – which means they were acquired via background checks.
On September 24, Breitbart News reported that 25-year-old Emanuel Kidega Samson allegedly shot and killed one parishioner outside Burnette Chapel Church of Christ, then went inside and shot and wounded six others.
ABC News quoted Nashville Metro police spokesman Don Aaron, who said, Samson "was wearing a neoprene half-mask and drove an SUV" into the parking of the church. Aaron said Samson "arrived in the parking lot and first fatally fired at a woman walking to her car." Police said Samson then allegedly entered the church where he shot "indiscriminately" at those inside the building.
Click here to see more 2A articles like this one.
The Tennessean reports that four guns were discovered on scene: a .40 caliber pistol, a 9mm pistol, a .22 caliber handgun, and an AR-15 rifle. Samson allegedly left the .22 caliber handgun and AR-15 in the SUV when he went inside the church. Police believe the only gun he used was the .40 caliber.
Featured GOA News & Updates