TAKE ACTION: Urge Sen. Cornyn to Stop Working with Chuck Schumer in Favor of Gun Control!
Written by admin
Published: 16 January 2018
TAKE ACTION: Urge Sen. Cornyn to Stop Working with Chuck Schumer in Favor of Gun Control!
Please click on the Take Action button to urge Sen. John Cornyn to stop pushing the "Fix NICS" bill (S. 2135).  Please also call Sen. Cornyn at 202-224-2934.
---
Not a GOA member yet?  You can join Gun Owners of America today for only $20. 
---
Texans Don't Like Gun Control 
Dear Friend:
It's easy to understand why the infamous Senaor Chuck Schumer loves the anti-gun "Fix NICS" bill — and why he's cosponsored this bill with your Senator, John Cornyn.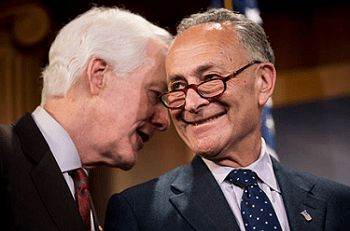 New York's SAFE Act stripped more than 30,000 law-abiding New Yorkers of their gun rights without due process — merely because their gun-hating private psychiatrists turned in their names. "Fix NICS" would hold out $625,000,000 to make sure that more names like these get sent to the FBI's gun ban list.
It's also easy to see why "Fix NICS" cosponsor Dianne Feinstein loves "Fix NICS."  
Her state of California allows relatives to "rat out" their kin.  Under that law, the SWAT team arrives at your house to take your guns without giving you any opportunity to be heard in any hearing.  Again, "Fix NICS" would shower money on California and similar states for turning in lots of names of law-abiding citizens who would now be subject to a gun ban.  
What many gun owners can't understand is:  Why is Texas Senator John Cornyn pushing a "Fix NICS" bill that is being aggressively supported by two virulently anti-gun Senators like Schumer and Feinstein?
Texas was actually served with a civics lesson on the Second Amendment recently. You will remember that an unarmed church was the scene of a tragic horrific massacre, and it was only when an armed Texan showed up on the scene that the carnage was brought to a halt.
So why is it that Cornyn is sponsoring legislation that would send more names of decent veterans to the FBI's gun ban list?
Already, the NICS system has been used to keep more than 257,000 honest veterans from purchasing firearms.  Undoubtedly, more military veterans living in Texas would see their names sent to the FBI's gun ban list under Cornyn's "Fix NICS" bill.  
Not only that, the Cornyn-Schumer-Feinstein bill would bribe Texas to turn in people with outstanding bench warrants — perhaps because of something no more serious than an unpaid traffic ticket.
Does Cornyn think that the New York Times, The Washington Post, NBC, and CNN will start praising him if he delivers gun control — one of their central objectives — on a silver platter?  
Because it defies reason why a Texas Republican senator would be a sponsor of the nastiest anti-gun legislation in the last ten years that has a reasonable chance of passing.
Remember how Barack Obama promulgated regulations which would have trawled the Social Security disability rolls for inclusion in the FBI's gun ban list?  Well, guess what?  The next anti-gun president could use that same principle to search Social Security, Medicare, Medicaid, and ObamaCare for people with guardians, PTSD, or Alzheimer's — and their names would be sent to the FBI's NICS system. 
Cornyn's "Fix NICS" bill would authorize the money for doing all of this — and do it with a vengeance.  
Millions of honest people could, potentially, lose their gun rights.  Consider that with Alzheimer's alone, a new study says that upwards of 40 million people are in the early stages of the disease.  So adding these names into the FBI's gun ban list would, no doubt, jeopardize the inheritance of many valuable gun collections.
Again, "Fix NICS" would have a 2/3 of a billion dollars pot of bribes to encourage states and mandate federal agencies to scour their rolls for more names (like those mentioned above) to throw into NICS — and many of these will be peaceable people who have never committed crimes in their lives.
We know there are some pro-gunners who think that S. 2135 will improve things for the 2A community, when it won't. And we've answered these claims. Does Sen. Cornyn understand that this bill is a step backwards for gun owners?
Perhaps as a Texan, you would like to ask him.
You can email him with your opposition to the "Fix NICS" bill (S. 2135).
And you can call him at 202-224-2934.  
If you call, there's no need to get into a debate with the person at the other end of the line.
Just deliver the simple message that you want him to stop pushing the "Fix NICS" bill.  Period.
Sincerely,
Tim Macy
Chairman
P.S. Please email Sen. John Cornyn and urge him to oppose the "Fix NICS" bill. You can also call him at 202-224-2934 and deliver the simple message: Stop pushing the "Fix NICS" bill (S. 2135).
Featured GOA News & Updates