Merry Christmas from Gun Owners of America
Written by admin
Published: 24 December 2018
GOA Wishes You a Merry Christmas!
"Sometimes, in the hustle and bustle of holiday preparations we forget [that] Christmas is the commemoration of the birth of the Prince of Peace, Jesus Christ, whose message would truly be one of good tidings and great joy, peace and good will." — President Ronald Reagan, December 1983
---


Not a GOA member yet? We need you more than ever right now!
---
Thank You for Standing with GOA This Year!
Dear Friend:
As we enter this Christmas season, I want to thank you, from all of us here at Gun Owners of America, for your activism and support this year.

As you know, our rights have come under incredible attack, as calls for repealing the Second Amendment are starting to gain traction.
But despite their efforts, your help has allowed us to accomplish much this year — including, defeating Red Flag gun grab bills at the federal level and in roughly 20 states.
You can see GOA's "Top Ten" in 2018 by going here. As you read these successes, please know that GOA members like you made this possible.
Our work together has been noticed by others on Capitol Hill and in the media:
1) Senator Dianne Feinstein lamented last week that the lawsuit by Gun Owners of America would keep the bump stock ban "tied up in court for years."
2) Reuters reported that "Gun Owners of America … has been among the most vocal opponents of the proposed [bump stock] ban and has galvanized supporters to weigh in." (May 4, 2018)
3) And Breitbart echoed similar sentiments, stating that: "Gun Owners of America was the predominant gun rights organization fighting against the backdoor gun control." (February 7, 2018)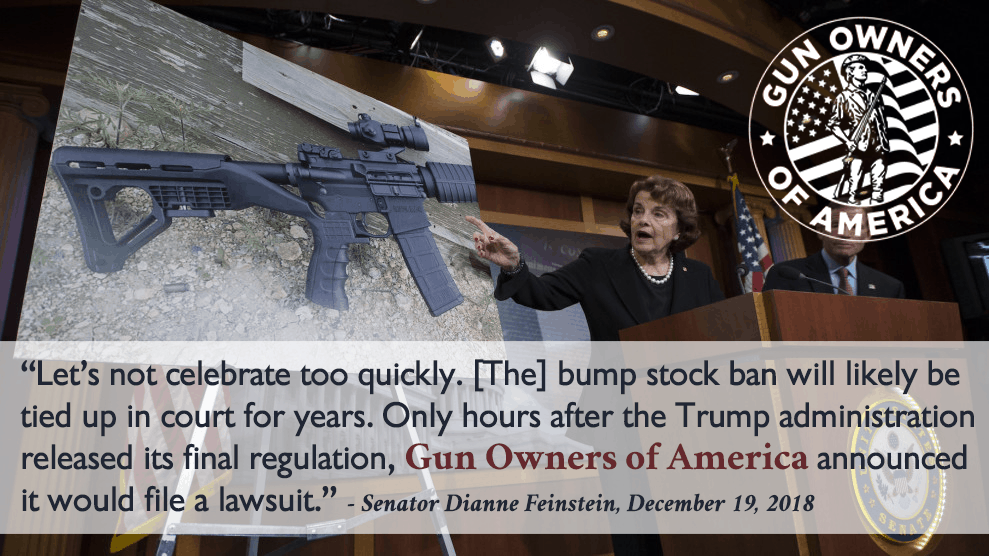 As we head into the next year, Gun Owners of America already has several irons in the fire:
Again, we are able to do these things (and more) — thanks to your activism and support.
GOA will, of course, continue to fight for Constitutional Carry in the states and concealed carry reciprocity at the national level.
We have an ambitious agenda for 2019, which is why I am grateful you are helping us to remain here in the nation's capital, fighting for our God-given rights.
May you have a blessed Christmas and New Year.
In Liberty,
Erich Pratt
Executive Director
Follow me on Twitter: @erichmpratt
P.S. Thank you again for your activism with Gun Owners of America. Your support of GOA will keep us fighting for our Second Amendment-protected rights into the next year!
Featured GOA News & Updates