Take Action: Two Pro-Gun Bills in Boise Need Your Help
Written by Gun Owners of America
Published: 22 January 2018
Gun Owners Need to Act Now for "Stand Your Ground" and Constitutional Carry Expansion
Urge your state lawmakers, to support and cosponsor the "Stand Your Ground" and Constitutional Carry Expansion bills.
---
Join Gun Owners of America today for less than a box of ammo!
---
Help Strengthen Self-Defense Laws in Idaho
Dear Friend:
Idaho is a pro-gun state with proud, self-reliant citizens.
But, given that fact, Idaho's laws concerning your ability to defend yourself and your family — particularly in your own home — leave a lot to be desired.
That could change shortly.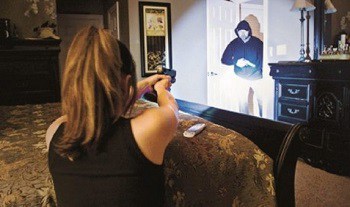 Legislation introduced by Representative Christy Zito would enshrine your right to defend your home, your family, and yourself against the unlawful use of force by a criminal who seeks to do you harm.
The bill has four major provisions:
First, you would have the right to use defensive force against a person who — you reasonably believe — has unlawfully and forcibly entered your home (or your car, while you're in it).  The "presumptions" would be shifted, so that you, as the homeowner, would be presumed to be acting in good faith, and the guy who broke into your home would be presumed to be doing so unlawfully.  There are, of course, reasonable exceptions, such as entry by the owner, or a family member, or the lawful entry by the police.
Second, if you are attacked in any other place, you have the right to "stand your ground," unless you are the lawbreaker.
Third, if you are acting reasonably in defending yourself, in accordance with the law, you would be protected from arrest, detention, and prosecution.
Fourth, if the government goes against you and you are found not guilty by reason of self-defense, you would be entitled to attorneys' fees.
Particularly in states like Idaho, it may take a long time for the police to reach you in an emergency.  If you cannot defend yourself and your family, then all of your lives may be in jeopardy.
Expand Constitutional Carry to All Americans, Everywhere in Idaho
There's one other pro-gun bill which is on the docket in the Idaho legislature.
This second bill, introduced by Sen. Tony Potts, would extend Idaho's Constitutional Carry law to both residents and non-residents.  Thus, it would make Idaho a fully Constitutional Carry state for all Americans.
But why should you care about whether Idaho's Constitutional Carry laws extend to visitors from other states?
First, for example, free speech protections do not end when you travel into the city limits, and bearing arms — a constitutional right — should be no different for Idahoans and for nonresidents alike.
Second, law enforcement's job will be made easier if police do not have to wonder whether you are an Idahoan who is entitled to carry or a non-Idahoan who is not.
In essence, both of these bills need your support.
Our friends at Idaho Second Amendment Alliance are doing great work in Boise, but all gun owners in Idaho need to rally behind these bills.
So please contact your state lawmakers to support and cosponsor "Stand Your Ground" and Constitutional Carry expansion bills!
In Liberty,
Jordan Stein
Director of Communications
Gun Owners of America
Follow me on Twitter: @jordankstein
PS: Gun owners in Idaho and across the country are rallying for pro-gun bills like Stand Your Ground and Constitutional Carry. Consider chipping in $20, $50, or $100 so GOA can keep up the pressure.
Featured GOA News & Updates