Will Speaker Ryan Heed Pelosi's Call for More Gun Control?
Written by admin
Published: 14 December 2015
---
ACTION:  Please click here to urge your Representatives to vote against any version of the "omnibus" spending bill that would allow fraudulent anti-gun "junk science" studies by Obama's government agencies.
---
Within the next few days, Congress will consummate a deal on the massive "omnibus" appropriations bill to fund all discretionary functions of the government. 
House Speaker Paul Ryan is widely reported to be crafting a deal which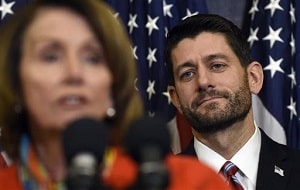 would pass the bill with Democratic votes — in lieu of conservative pro-gun Republicans. 
In particular, Pelosi is demanding that Congress remove "boilerplate" text which has existed for twenty years — language that prevents the use of taxpayer dollars for "junk science" government studies in support of gun control. 
According to The Hill this weekend, while many Republicans are balking at Pelosi's request, some have indicated that they are willing to engage in some horse-trading on this issue, and "House Speaker Paul Ryan (R-Wis.) has declined to take a position" at all. 
We saw on Sunday how newspapers like the New York Times use fraudulent "studies" from anti-gun nuts like the "Violence Policy Center" — and then pretend how these Leftist kooks are "unbiased."
Imagine how much worse this would be if liberal Obama-controlled government agencies began pushing these same corrupt anti-gun "analyses."
Remember, there's a reason that Congress defunded this research in the first place.  
Remember Dr. Mark Rosenberg, a former head of the CDC's National Center for Injury Control and Prevention in 1994, who said:  "We need to revolutionize the way we look at guns, like what we did with cigarettes…. Now [smoking] is dirty, deadly, and banned."
And don't forget Arthur Kellerman who, using CDC funds, published a study in 1993 supposedly claiming that a gun in the home is roughly three times more likely to be used against the homeowner, than to be used in self-defense.
For years, Kellerman's junk science "research" was used by every anti-gun nut in America to demonize firearms.  That is, until parts of his data were finally released in the late 1990s, and it became very clear that Kellerman had skewed his data.
If Ryan were to agree to Democrat demands for "junk science gun control" — in order to get their votes — he would be doing something that even his predecessor, John Boehner, wouldn't have done, turning the appropriations process over to Nancy Pelosi and the Democrats. 
So please contact your Representative.  Tell him or her to vote against any version of the "omnibus" which would allow fraudulent anti-gun "junk science" studies by Obama's government agencies.
This is an important battle.  Please take action today. 
Featured GOA News & Updates