Anti-gun ObamaCare Takes Giant Step Forward
Written by Gun Owners of America
Published: 17 October 2013

The way forward from here.

– But the battle is far from over
{flike}
"If Senate Republicans had united and supported House Republicans, supported the American people, we could have had a different outcome. [But even after yesterday's loss] there is reason to take heart and be encouraged…." — Senator Ted Cruz (R-TX)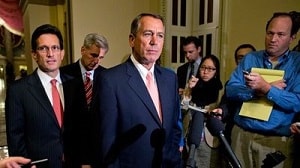 Yesterday's budget deal represented one giant leap for the ObamaCare law; one small step backward for liberty.
Details of this atrocious agreement continue to leak out — like a $2B kickback for Senator Mitch McConnell's state of Kentucky and a provision that makes it more difficult to stop the debt ceiling from being raised in the future.
So much for the argument that Democrats were making:  We want a "clean" budget bill!  (Yeah, right.)
Yes, the budget deal is horrible.  Our debt ceiling has been increased.  The anti-ObamaCare continues to be funded (for now).  And the Stupid Party has demonstrated, once again, that they hold advanced degrees from the Neville Chamberlain School of Negotiations.
But while CNN and MSNBC are crowing about Wednesday's budget deal "victory" — and the defeat of the Ted Cruz and Mike Lee faction of the Republican Party — they may be missing the bigger picture.
They miss the growing anger at ObamaCare, and the fact that the battle over the partial government shutdown has all but stalled the anti-gun agenda on Capitol Hill:
1. Because of the "shutdown," Obama was unable to push his campaign for gun control, exploiting the Navy Yard killings.
Similarly, anti-gun immigration reform, scheduled for October, has also been scuttled amidst a sea of bad blood. With the window for considering both of these measures rapidly closing, the temporary shutdown makes it MUCH more likely that neither of these can be passed in the 113th Congress.
2. Secondly, the conservative base has been energized, and anger at ObamaCare could strip Senate control out of Harry Reid's hands.
At a time when ObamaCare is collapsing, conservatives forced "red state Democrats" running for reelection to firmly take a position in favor of the unpopular program.
In the Senate, what will determine control of the chamber are places like Alaska, Arkansas, Louisiana, South Dakota, Montana, North Carolina, West Virginia — all of which view ObamaCare much more unfavorably than the country as a whole.
3. Finally, good things happen for those who decide to fight.
The Karl Rove strategy of not fighting "just because we won't win" is a stupid strategy.  The truth is that, fighting the fight for principle always brings a good return.
As a result of Obama's gun control push this spring — and his insistence on his unpopular ObamaCare mandate this month — the conservative base is riled up to tsunami levels.
The Associated Press recently showed that Barack Hussein Obama's approval ratings had declined down to 37%.  Even though liberty took a hit yesterday, many Americans came out of this convinced, for the first time, that Obama is a genuinely nasty and vengeful man.  And that is a realization that will bear fruit in future battles — and future elections.
This is exactly Senator Cruz' take on what happened yesterday.
"If you look at what was accomplished, a couple of months ago the Washington establishment scoffed at the idea that the American people would rise up in overwhelming numbers [and] that the House of Representatives would stand strong against ObamaCare," Cruz said.
"What we have seen in the last two months [is] a model that I think is the model going forward to defeat ObamaCare."
Gun Owners of America will be rating the votes that were cast yesterday in favor of funding the anti-gun ObamaCare law as part of the Continuing Resolution.
You can see how your Senators and Representative voted by going here:
* Click here to see the House vote.
* Click here to see the Senate cloture vote. (Note: The "cloture" vote ends debate on the legislation and brings the bill up for a vote on final passage.  It is often referred to as the "filibuster" vote.)
* Click here to see the Senate final passage vote.
In all three votes above, Gun Owners of America will score "NO" as the pro-gun vote, given that ObamaCare has such negative ramifications for gun rights.
So, what are we going to be doing for the next two months?
1) With your help, it appears we have stopped ratification of the UN Arms Trade Treaty.
2) For gun owners who do not absolutely need insurance, we are going to campaign for them to boycott the anti-gun ObamaCare program.
3) The Republican leadership is now primed to negotiate a really bad deal over the next three months. We're going to have to work to swat down each anti-gun proposal as it raises its ugly head.
For all of these fights, we'll need your help. So stay active … and stay tuned for future alerts!
Featured GOA News & Updates