How the Second Amendment Guarantees America's Freedom"
Written by admin
Published: 16 October 2013
WORLD PREMIERE OF POLITICAL FILM:  "

MOLON LABE

— How the Second Amendment Guarantees America's Freedom"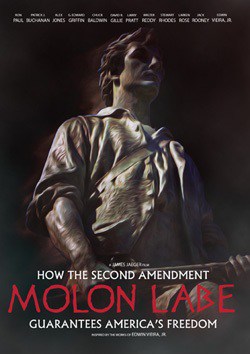 Thursday, October 24, 2013
RON PAUL —  LARRY PRATT — PAT BUCHANAN — ALEX JONES — G. EDWARD GRIFFIN AND OTHERS EXPLORE THE FULL MEANING OF THE SECOND AMENDMENT
Valley Forge, PA, Oct 15 /CNW/ – On October 24th, 2013 the world premiere for MOLON LABE will be held at the Reel Cinema Anthony Wayne Theater, Wayne PA and selected other theaters around the country.  MOLON LABE will also be broadcast online from 8PM – Midnight EDT by the following organizations:
Alex Jones' InfoWars (www.InfoWars.com)
Chuck Baldwin Live (www.ChuckBaldwinLive.com/premiere)
Gun Owners of America (www.GunOwners.org)
Movie Pubs (www.Molon.us/premiere)
Oath Keepers (www.OathKeepers.org)
Reality Zone (www.RealityZone.com)
Your Precinct Project (www.YourPrecinctProject.com)
Filmmaker James Jaeger (FIAT EMPIRE, CORPORATE FASCISM) teams with Constitutional attorney, Edwin Vieira, Jr. and producer, Richard Iott (BEAUTIFUL BOY, CARJACKED) on MOLON LABE, a feature presentation by MATRIX ENTERTAINMENT in association with OATH KEEPERS and BRAEBURN ENTERTAINMENT, LTD.  The documentary explores the reasons Americans not only have the right to "keep and bear arms," but the duty to "keep and bear arms" as part of their state Militia responsibilities.  But this duty, and the Militia, are often misunderstood. As a result "gun-control lobby" has been eroding the original intent of the Founders by passing unconstitutional "laws"; establishing "gun-free" self-defense prohibition zones; and destroying the 300-year-old Militia system established by WE THE PEOPLE.
History shows that when citizens are unarmed government suppression and tyranny are inevitable.  MOLON LABE — inspired by The Sword and Sovereignty by Edwin Vieira, Jr., A.B., A.M., Ph.D., J.D. Harvard — explores how the "power of the sword" guarantees Americans' freedom.
MOLON LABE also features David R. Gillie (Civics Lecturer); Chuck Baldwin (fmr. Presidential Candidate for Constitution Party); Larry Pratt (Executive Director, Gun Owners of America); Stewart Rhodes (Founder/ED, Oath Keepers); Larken Rose (Author, The Most Dangerous Superstition); Walter Reddy (Activist/Co-Founder, Tea Party Movement); and Jack Rooney (Indiana Senatorial Candidate).  Matrix Production's previous films include the Telly Award-winning FIAT EMPIRE, ORIGINAL INTENT, CULTURAL MARXISM, CORPORATE FASCISM and SPOiLER.
— YOUR COVERAGE OF THIS EVENT IS INVITED —
— Trailer at www.molon.us/premiere —
— Pre-order DVDs at http://www.molon.us/dvds —
— Website www.Molon.Us —
For More Information on distribution,
interviews or theatre bookings contact:
Diana Zoppa at 778-628-2770 or [email protected]
UPDATE: Here is a link to this very important film on You Tube! Come see it and a bit of our own Larry Pratt!
Featured GOA News & Updates