Thanks to You, Support for Concealed Carry Has Skyrocketed in Congress
Written by Erich Pratt
Published: 08 June 2017
Concealed Carry Reciprocity is Approaching 200 Cosponsors!
"A lot of that [success] has to do with grassroots organizations like Gun Owners of America pushing to get more cosponsors." — Rep. Richard Hudson (R-NC)
---

Up the pressure on your Congressmen by getting GOA's pre-written postcards that are sent to all GOA Members. You can join Gun Owners of America today for only $20!
---
Reciprocity Legislation is Going Gangbusters in Congress, but We Need Help to Get Over the Finish Line!
Dear Friend: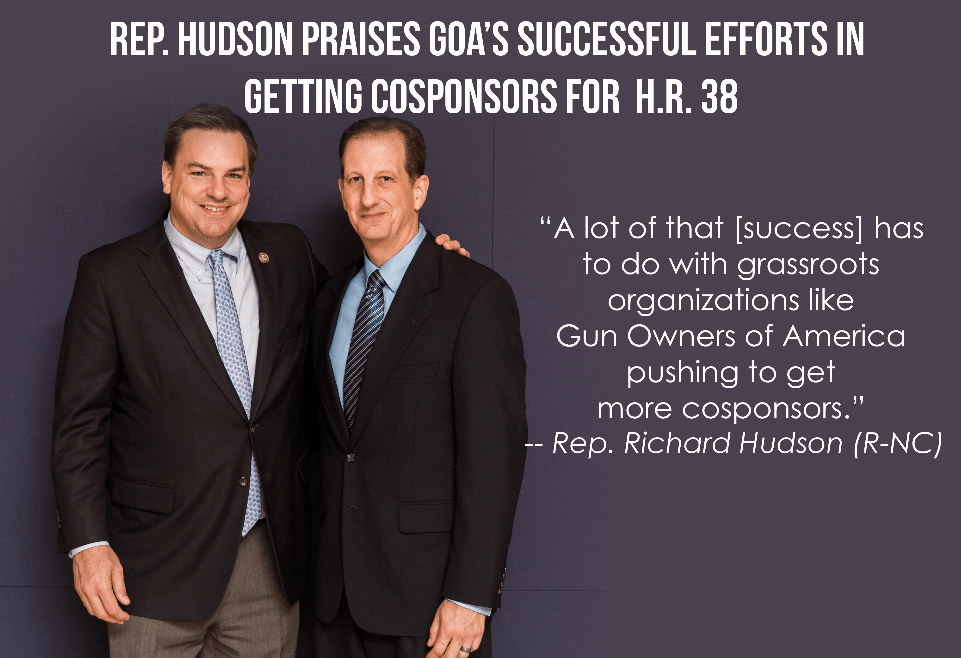 I want to update you with exciting news from Capitol Hill — and thank you for all your help in pushing gun rights this year.
You know that I have repeatedly encouraged you to contact your congressman in support of concealed carry reciprocity.
Well, we are now getting closer to achieving a historic number of cosponsors on Rep. Richard Hudson's reciprocity bill (H.R. 38).
Get this: Out of the more than 2,700 bills introduced in Congress this year, H.R. 38 is #14 in terms of most cosponsors.  
The fourteenth most cosponsored bill!  
Let that number sink in.
Hudson's bill is one of the most popular ones in Congress.
And that #14 ranking is even more significant when you consider that some of the higher-ranked bills are merely commemorative bills or bills dealing with cancer research.
So do you know what this means?
Despite all of Bloomberg's billions in trying to kill concealed carry reciprocity … and despite all of the media's "fake news" attacks against gun rights … you have helped achieve more than 190 cosponsors on Hudson's bill!!!
There are 196 to be exact.
Your tremendous action has helped catapult H.R. 38 into the 99th percentile.
Rep. Hudson thanks GOA members for their activism
(See below on how you can help GET MORE cosponsors!)
Rep. Richard Hudson told me, when he was discussing the tremendous number of cosponsors that were added to his bill in such a short time, that:
"A lot of that [success] has to do with grassroots organizations like Gun Owners of America pushing to get more cosponsors." 
His bill is GOA's top priority.  It would allow you to carry nationally if you could carry in your home state.  
It would recognize constitutional carry states.  
It would allow residents of anti-gun states to apply for out-of-state non-resident permits.  
It would abolish safety-free zones.  
It would require agencies like the Army Corps of Engineers to recognize the Second Amendment rights of Americans.  
It would prohibit states from circumventing federal law by registering magazines and ammunition. 
The Hudson bill is very good, and it has a LOT OF COSPONSORS on it.
But in order for the bill to pass, we still need more support.
I want us to make a big push to get the bill over 200 cosponsors.  (We need 218 votes to pass it in the House.)
And that's why I am providing you with a pre-written letter that is specially designed for your congressman.
Representatives who have cosponsored H.R. 38 will get a "thank you" letter.  Reps. who have NOT will get a "spank you" letter.
GOA's postcards are landing on Capitol Hill right now
(TAKE ACTION below to get more cosponsors!)
If you are receiving GOA's postcards, you know that our most recent mailing — dealing with reciprocity — just landed in your mailbox.
These postcards are a VERY IMPORTANT part of our legislative strategy to get more cosponsors.
There is nothing like piling mounds upon mounds of postcards and letters on legislators' desks.
So if you haven't received our postcards in favor of concealed carry reciprocity, I encourage you to take these actions:
1. Sign up to start getting postcards every month.  It's merely $20 to join GOA for a year — less than the cost of a box of ammo.
2. Send an email to your Representative explaining the importance of supporting H.R. 38 — and pushing to get a vote on this legislation.
3. Forward this email to your pro-gun family and friends.
Thank you for your help.
In Liberty,
Erich Pratt
Executive Director
P.S.  Please use GOA's Legislative Action Center to email your congressman in support of H.R. 38. And join GOA for only $20 so that you can start receiving postcards — and increase the pressure on your legislators.  
Featured GOA News & Updates