GOA Ups the Pressure for Permitless Carry in Texas
Written by Erich Pratt
Published: 03 March 2017
Pressure Mounting to Pass GOA-Backed Constitutional Carry in Austin!
 
Click on the Take Action button to urge your state representative to support HB 375, a bill to establish Texas as the 14th Constitutional Carry state.
---
Not a GOA member yet? You can join Gun Owners of America today for only $20!
---
Top Ten Reasons Why Texas Should Pass Constitutional Carry
Dear Texas Gun Owner:
Yesterday was a fantastic day at the state capital!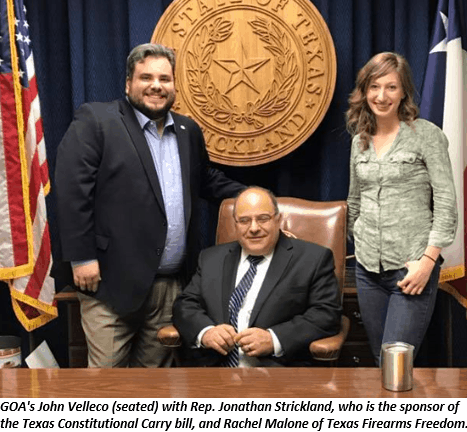 GOA's Director of Operations, John Velleco, traveled to Austin to speak to pro-gun activists.
The event, which was sponsored by Texas G.O.L.D. (Gun Owners Lobby Day), was a huge success.
John rallied gun rights activists in favor of Constitutional Carry, and then led many of them into different legislators' offices.
Rep. Jonathan Stickland is the chief sponsor of House Bill 375, which would establish Constitutional Carry throughout the great state of Texas.
John met with Stickland and addressed the gun rights activists who attended the lobby day. You can hear a little of what John had to say here.
The good news is that permitless carry is a high priority for Republicans in Austin this year.
The Texas legislature is moving quickly to make Texas the 14th Constitutional Carry state — and to restore its status as one of the most pro-gun states in the country.
House Bill 375 is currently pending in the House Homeland and Public Safety Committee, which is expected to take action on the bill soon.
As you know, the concept of Constitutional Carry is simple: No person should be required to get the government's permission to exercise his constitutional rights.
So, without further ado, here are GOA's Top Ten Reasons Why Texas Should Pass Constitutional Carry:
10. Because Americans should not need the government's permission in order to protect ourselves, our families, our communities, our country, or our freedoms.
9. Because criminals will be carrying concealed, the question is whether they will be the ONLY concealed carriers in the room.
8. Because armed Texans are safe Texans. 
7. Because the states with Constitutional Carry – states like Vermont, Maine, Montana, Wyoming, and Idaho – are the safest states in the country.
6. Because, with just a few exceptions, every public mass shooting in the last 20 years has occurred somewhere where guns are banned.
5. Because the states of Alaska and Arizona saw a 31.6% and 29.6% decline in their murder rates, respectively, in the first five years following the passage of constitutional carry.
4. Because, according to a PoliceOne.com survey of more than 15,000 police officers, over 90% support the right of Americans to carry guns to protect themselves.
3. Because Texas gun owners shouldn't be registered like sex offenders, merely to exercise their constitutional rights.
2. Because, after passage of S. 446 (the Cornyn bill), Texans will be able to carry without a permit anywhere in the country, if it adopts constitutional carry.
1. Because it's the Constitution!!!
Please take a few moments to send your state legislator an email urging support for Constitutional Carry in Texas (HB 375).
In Liberty,
Erich Pratt
Executive Director
P.S. Please distribute this alert to your pro-gun family and friends and urge them to take action. To renew your GOA membership or to join for the first time, please click here.
Featured GOA News & Updates